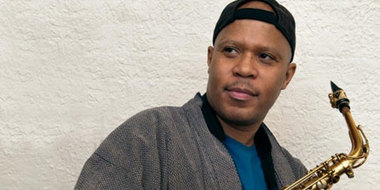 Fri.-Sun. Dec. 18-20 -- Deep-thinkin', twistedly funkin' Steve Coleman, an alto man who helped remake jazz in the '90s, concludes his residency; word from Bill is that the band exceeds hopes, and no doubt the music's different every night. The players: trumpeter Jonathan Finlayson, tenorist Maria Grand, guitarist Miles Okazaki, bassist Anthony Tidd and drummer Sean Rickman At the Blue Whale on the third level of Weller Court Plaza, south of East First Street between South Los Angeles Street and South San Pedro Street, Little Tokyo 90012; 9pm-midnight; $10; 21+; parking $5 underneath off Second Street at the sign of the P in a circle; (213) 620-0908; www.bluewhalemusic.com.
Sat. Dec. 19 -- Volto (Tool drummer Danny Carey & friends) jams hard and heavy. With Moth, Socionic, Lost Poets (not Last Poets, maybe second last). At the Viper Room, 8852 Sunset Blvd., West Hollywood 90069; 11pm; $12; (310) 652-7869; www.viperroom.com.
Sun. Dec. 20 -- Trumpeter Elliott Caine helps keep vintage-conscious jazz alive on the East Side. At the York Bar and Restaurant, 5018 York Blvd., Highland Park 90042; 7:30-10pm; no cover; (323) 255-9675.
Mon. Dec. 21 -- Kenny Burrell's L.A. Jazz Orchestra Unlimited packs the stage with major-league players, covering the bases from classics to sparky originals. And guitarist Burrell was there when. At Catalina Bar & Grill, 6725 Sunset Blvd., Hollywood 90028; 8:30pm; $20; (323) 466-2210; www.catalinajazzclub.com.
Tues. Dec. 22 -- Israeli mind regroovers Maetar team up with singers Donna De Lory and Lili Haydn (plus a channeling dude!) at a holistic venue for a night of "sacred song and improvisation." Don't be a-skeered. At the Full Circle, 305 Rose Ave., Venice 90291; 8pm; $25.
* * *
Read Don Heckman's jazz picks here. Read John Payne's plutonic Bluefat.com here.