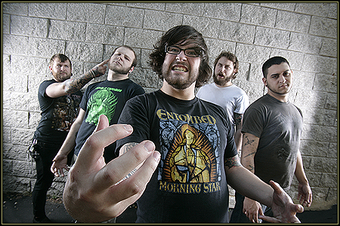 Fri. Dec. 4 -- The Black Dahlia Murder (touring on the new "Abysmal") terrorize with mini-epics of progressive darkness; Goatwhore induce emetic spasms; Iron Reagan despise liberal poetry via sarcastic thrash; Entheos and Artificial Brain support. At the Regent Theater, 448 S. Main St., downtown 90013; 7pm; $20-$38; 18+; www.ticketfly.com.
Fri. Dec. 4 -- Booker T. Jones shows ya where that '60s organ groove is located; the younger Black Joe Lewis throws a funky Texas party. Dunno how you're supposed to dance in this frigid cathedral, but it's kinda mandatory. A CAP presentation at UCLA's Royce Hall; 8pm; $19-$49; www.cap.ucla.edu.
Fri.-Sat. Dec. 4-5 -- Ubiquitous session man Steve Gadd slaps the drums the way he did with Herbie Mann, George Benson and Chick Corea; his ace fusionistic band includes keysman Larry Goldings, guitarist Michael Landau, bassist Jimmy Johnson and trumpeter Walt Fowler. At Catalina Bar & Grill, 6725 Sunset Blvd., Hollywood 90028; 8:30 & 10:30pm; $30-$40; (323) 466-2210; www.catalinajazzclub.com.
Sat. Dec. 5 -- Australians Parkway Drive have figured out how to howl hard, throw in some melodic guitar figures and draw some chicks in the doors; Thy Art Is Murder belch unapologetic death metal with good riffs. With Miss May I, In Hearts Wake. At the Wiltern, 3790 Wilshire Blvd., LA 90010; 8pm; $25; (213) 388-1400; www.livenation.com.
Sun. Dec. 6 -- Bay Area avanteers Bristle (windman Randy McKean, windman Cory Wright, violinist-oboist Murray Campbell and, reviewed recently in these pages, bassist Lisa Mezzacappa) chamberize modern-style. And extreme vocalist Bonnie Barnett conducts one of her storied group hums, vibing for peace with cornetist Dan Clucas, bass clarinetist Richard Wood, baritonist Richard Walker, bassist Hal Onserud and percussionist Garth Powell. You can all join in. At Center for the Arts, 2225 Colorado Blvd., Eagle Rock 90041; 7pm; $10; (626) 795-4989.
Tues. Dec. 8 -- Not ZZ Top but what the hell, it's the man with deep electricity in his fingertips, guitarist-sanger Billy Gibbons & the BFGs, getting into an Afro-Cuban bag (did you know Billy studied percussion with Tito Puente?). With Tyler Bryant. At the Orpheum Theater, 842 S. Broadway, downtown 90014; 8pm; $40-$50; all ages; (877) 677-4386; www.laorpheum.com, www.livenation.com.
Wed. Dec. 9 -- Guitarist Michael Keene and The Faceless whip up amazing epic metal weirdness with After the Burial, Rings of Saturn, Ubiquity. At the Whisky, 8901 Sunset Blvd., West Hollywood 90069; doors 6:30pm; $20; www.whiskyagogo.com; (310) 652-4202.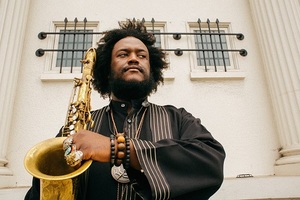 Thurs. Dec. 10 -- Kamasi Washington is just about the most exciting recent development in jazz; read my wordage here and here. At Club Nokia, 800 W. Olympic Blvd., downtown 90015; 8pm; $25-$38; www.clubnokia.com.
* * *
Read Don Heckman's jazz picks here. Read John Payne's plutonic Bluefat.com here.