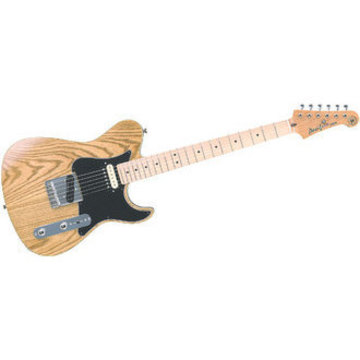 It was about time I caught up with guitarist Mike Stern, and I'm not saying I succeeded, cuz the man moves fast and I had only a minute.
The first occasion I saw Stern was at the Hollywood Bowl for Miles Davis' 1981 comeback. (Miles had been in pain, on drugs and out of the studio for several years.) This white kid with a Johnny Ramone haircut stepped up and whanged one big, distorted chord that bounced around the Cahuenga Pass like an alien fireball. I dropped my beer and said, "Damn -- dude has balls." Stern also grooved and spieled at length on my fave '80s Miles, the partly live "Star People." I caught him long ago at the first Catalina's location, too, then paid little heed to fusion for decades -- too much Sabbath in my head. So aside from records, Mike Stern had slid to the edge of my radar, even though he plays Catalina's every year.
Leni Stern (Mike's wife, another guitarist I admire tremendously) was in town -- with Mike for a change; they're usually touring different parts of the world -- to get some scalp tattoos, which looked rad. She said why don't you come see Mike, and though I couldn't stay out late, I said great and thanks.
Before the show, Leni told me about the etiquette of sharing a blood-and-milk mixture with African musicians, and about how she had to mix her next album (interesting new textures!) in New York instead of Mali for obvious reasons, and about how last year Mike had busted in on tonight's drummer Dennis Chambers just in time to aid the illin' Chambers, who'd been on the point of joining the ancestors.
Leni introduced me to Mike, at the bar checking his email. I should not have been surprised to encounter such a smiling, easygoing New Yawker, tawking with a street croak made raspier by the cold he was casually suffering; he reminded me of David Johansen, the New York Dolls singer. Entering musicians gave Mike the thumbs-up. Manager Janet Williamson hugged the Sterns and grabbed a drink. A handsome race-car driver said hi -- "You should find another line of work," joked Mike, who then admired Leni's sartorial distinctiveness while disparaging his own "Sunday best," jeans and a long-sleeved T-shirt. He still has the same haircut.
Mike's first selection was all I had time to grok, but at about 20 minutes, it got way past warm-up into the realm of scalding hot. Built around a syncopated riff on the low strings, the tune cycled through everybody's solos but also featured some compositional twists that the band executed with ease -- Mike has been touring with these guys.
Oh, they have names -- all-stars of course, alums of major fusion units for decades. And non-fusion: Trumpeter Randy Brecker sessioned many rock albums in my collection such as Aerosmith's "Get Your Wings," Todd Rundgren's "Something/Anything" and Lou Reed's "Berlin." Now 70, Brecker huffed a bit when climbing onto the stage but sat down to blow a gale of rhythm-conscious melodic inspiration, sometimes inflecting his lines with ghostly electronic halos.
Bassist Tom Kennedy (Dave Weckl, Planet X) demonstrated one of those cleanly articulated sounds that reveal every mistake if you make any, which he didn't. Grinning like an altar boy serving his first high mass, Kennedy flowed and accented with effortless bubbling acuity.
Dennis Charles slambanged those damned drums. Not content just to groove, he powered it out while leaving lots of holes for the other instruments to pop through -- a hard balance to strike, but think about Tony Williams.
Mike Stern used his famous chorus effect on his signature Pacifica more subtly than in times of auld, and his tone cut through like a rapier. Some players tap their foot; Mike, his posture in a slender S, jerked his whole left leg to the rhythm as he constructed riffy segments of synchronous single-note coherence, and slipped through semichromatic chordal sequences indebted to the Kenny Burrell tradition but punched up with rock attitude. Once in a while he'd look up and give some audience member a quick grin -- plays with a lot of joy, does Mike Stern.
And the crowd dug it: young folks and older geezers, gents and chicks, nearly filling a large club on a bloody Sunday night in the middle of Xmas terror. Fusion ain't dead, and don't ax me to kill it.