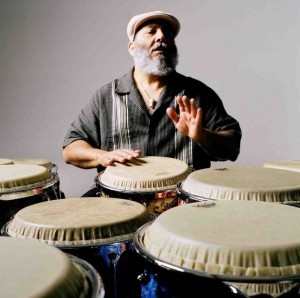 Fri.-Sat. Jan. 8-9 -- L.A. institution Poncho Sanchez whips up the fiercely jumpin' Latin groove. At Catalina Bar & Grill, 6725 Sunset Blvd., Hollywood 90028; 8:30 & 10:30pm; $25-$30; (323) 466-2210; www.catalinajazzclub.com.
Sat. Jan. 9 -- If you're confused by the eclectic sound of Metal Allegiance's debut album, well, it's a big all-star collective, so it has to sound that way. Likely M.A. will sound more cohesive live, both because it's narrowed down to a core sextet featuring Megadeth bassist David Ellefson, Dream Theater drummer Mike Portnoy and Testament guitarist Alex Skolnick (with guest jolts from the likes of Slipknot mainman Corey Taylor and ex-Slayer drummer Dave Lombardo), and because it'll be playing several Motorhead tunes in tribute to rock icon Lemmy Kilmister, who died a few weeks ago. SoCal power-metal stalwarts Cage and all-femme rockers Doll Skin support. At the Whisky, 8901 Sunset Blvd., West Hollywood 90069; doors 8pm; $30; www.whiskyagogo.com; (310) 652-4202.
Sun. Jan. 10 -- As soon as former Slayer drummer Dave Lombardo's Philm disbanded, the ever-adventuring Lombardo concocted Dead Cross, a balls-out raging punk band featuring two members of the Locust (voxman Gabe Serbian and bassist Justin Pearson) and Retox guitarist Mike Crain. With Anger the Giant and epic metalmen Lord Marshall. At the Gaslamp, 6251 E. Pacific Coast Highway, Long Beach 90803; doors 6pm; $15; www.ticketweb.com; (562) 596-4718.
Sun. Jan. 10 -- Hard-kicking vet journalist Chris Morris reads from his new bio of Los Lobos. At Vroman's Bookstore, 695 E. Colorado Blvd., Pasadena 91101; 4pm; FREE but buy a damn book.
* * *
Read Don Heckman's jazz picks here. Read John Payne's plutonic Bluefat.com here.