Fri. Feb. 19 -- Groove triangulators Maetar find the spot where the casbah, the disco and the jazz lounge intersect, and everybody forgets where the bombs are. At the E Spot Lounge (formerly Upstairs at Vitello's), 4349 Tujunga Ave., Studio City 91604; 8pm; $10-$30 plus two-drink minimum; (818) 769-0905; www.vitellosrestaurant.com.
Fri. Feb. 19 -- Renowned fuse-o-matic drummer Alphonse Mouzon's All-Star Jazz, Funk & Smooth Jazz Band (any questions?) saturates the senses via keyboardist Tateng Katindig, saxist Brandon Fields and bassist Bruce Lett. Great way to drown out the work week. At Roscoe's Seabird Jazz Lounge, adjacent to Roscoe's Chicken & Waffles, 730 E. Broadway, Long Beach 90802; 8pm & 10pm; $20-$25; (562-787-0899); www.seabirdjazzloungelbc.com.
Sat. Feb. 20 -- Jazz, Latin, avant and whatever-you-damn-want saxist Justo Almario celebrates his birthday with pianist Rique Pantoja, bassist Guillermo Guzman, drummer Aaron Serfaty and whoever wants to harmonize. In Bar Fedora in vegan restaurant Au Lac, 710 W. First St., downtown 90012 (behind REDCAT); 7:30-11pm; $20-$25 (students $10) plus two-item minimum, reservations advisable at www.saturdaynightjazzdtla.com; $7 underground parking.
Sun. Feb. 21 --= Elliott Caine brings his trumpet and five other guys (including Bobby Matos percussionist Antoine Dearborn) to slant his tradition toward the Latin side. At the York Bar and Restaurant, 5018 York Blvd., Highland Park 90042; 7:30-10pm; no cover; (323) 255-9675.
Mon. Feb. 22 -- Ain't too often that I hear a bass clarinet moaning behind a death-metal expostulation the way it does in the orchestral intro to Fleshgod Apocalypse's "The Violation"; these Italian zombies pull off the classical-blastbeat fusion better than most. With proficient local black-metal regents Abigail Williams, plus Carach Angren, Transcent the Realm, Luna Occulta. At the Whisky, 8901 Sunset Blvd., West Hollywood 90069; doors 6pm; $20; www.whiskyagogo.com; (310) 652-4202.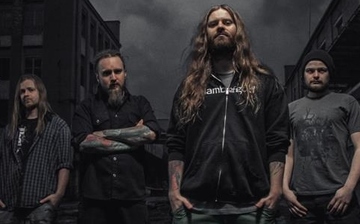 Tues. Feb. 23 -- I listened to Decapitated's 2014 "Blood Mantra" three times yesterday, and my already high regard for this Polish metal landmark escalated still further. At first I wondered whether new young drummer Michal Lysejko is brutal enough for death metal -- he almost caresses those cymbals, and his rounded, rubbery double-kick sound doesn't even give me a headache. Then I realized that the slight squishiness of Lysejko's.aesthetic, combined with his ability to give the impression of a groove while cycling through every kind of off-accent, makes him the perfect complement to original guitarist Waclaw "Vogg" Kieltyka's semichromatic riffs, sensual guitar layerings and concise, architectural song structures. Vogg's perseverence through his drummer brother's 2007 death, more near-fatal accidents and several personnel changes has earned respect; his talent speaks for itself. With Darksun, Cranial Engorgement, Infierno, Thorns of Sin, Acrimony, Besieged by Demons, Durion. At the Whisky, 8901 Sunset Blvd., West Hollywood 90069; doors 7pm; $20; www.whiskyagogo.com; (310) 652-4202.
Tues. Feb. 23 -- Vicki Ray, a modern pianist with a sensitive touch and an adventurous mind, addresses the four elements via compositions by Luciano Berio, Mu-Xuan Lin, Dominique Schafer, John Luther Adams and Toru Takemitsu. At REDCAT, 631 W. Second St., downtown 90012; 8:30pm; $25 (students $20); www.redcat.org.
Thurs. Feb. 25 -- Rockjazz omnivores Kneebody thought it would be a smart idea to collaborate with electronic beat explorer Dedalus, and I think so too. At the EchoPlex, 1154 Glendale Blvd., Echo Park 90026; 8:30pm; $14; 21+; www.attheecho.com.
* * *
Read Don Heckman's jazz picks here. Read John Payne's plutonic Bluefat.com here.