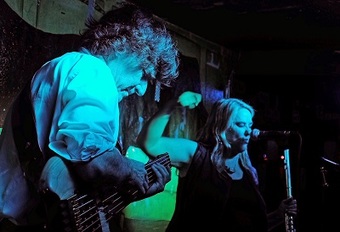 Fri. Feb. 5 – "Life Through Music" is a collage of avant improv, classical music and storytelling via Loop 2.4.3 (a.k.a. Clogs percussionist Thomas Kozumplik), the flute-voice-bass-FX duo of Emily Hay & Steuart Liebig (pictured), guitarist Christopher Leible and guitarist-vocalist Christopher Anderson-Bazzoli. I'm confused, which is usually a good thing. At St. Mark's Episcopal Church, 1020 N. Brand Blvd., Glendale 91202; 8pm; $10-$20 donation.
Sat. Feb. 6 -- Bad-ass gardeners Garretson & Gorodetsky present their meditatively poetic and conceptually distinctive song cycle "What Must the Hummingbird See?," augmented by postjazz twisters Brainchildren of Xenog. It'll get ya ponderin'. Part of the "Winter Sounds" series at West Hollywood Library, 625 N. San Vicente Blvd., West Hollywood 90069; 4pm; FREE; free parking on El Tovar Place behind the library.
Sun. Feb. 7 – With an electric quartet in mind, percussion master Alex Cline corrals some of his favorite musicians: bassist Steuart Liebig, keyboardist Wayne Peet and saxist Eric Barber. (If they're selling CDs, pick up "Acceleration" by Weston/Saxon Groove Assembly, an exciting hyperfunk space trip featuring Liebig and Peet.) Opening are Frozen Henchmen, the comprovisational quartet of Grandmothers guitarist Max Kutner plus saxist Logan Hone, tuba player Stefan Kac and drummer Jesse Quebbeman. The West Coast's got no skin in today's Super Bowl, so go rogue. At Center for the Arts, 2225 Colorado Blvd., Eagle Rock 90041; 7pm; $10; (626) 795-4989.
Tues. Feb. 9 – For-real New Orleans pianist Henry Butler collaborates with tuned-in arranger and trumpeter Steven Bernstein, a man with an exciting slant on many genres, to celebrate Mardi Gras in both old-timey and modern modes. Also clocking in: Red Baraat approach the holiday from an Indian perspective, no less. Sorry, it's too late to order crawfish for the pre-concert boil. A CAP presentation at UCLA's Royce Hall; 8pm; $19-$49; www.cap.ucla.edu.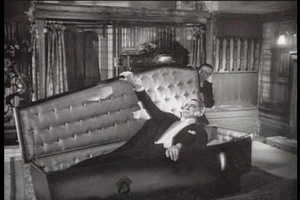 Thurs. Feb. 11 -- Black Sabbath, the greatest heavy band of all time, make two final L.A. stops this year -- now and in September. I'm down with the fall Bowl show and would hit this one as well, but the ticket price would deplete my own retirement fund in favor of Ozzy's. Why doesn't Sab wheel out original drummer Bill Ward to slam a last single beat on a floor tom at least once this year? At the Forum, 3900 Manchester Blvd., Inglewood 90305; 7:30pm; $161-$2,400 (honest ter gawd); www.ticketmaster.com.
Thurs. Feb. 11 – They call Supersuckers cowpunks cuz they wear the hats, but they just sound like fast, funny, hooky, streamlined rock to me. With The Yawpers, Charlie Overbey. At the Viper Room, 8852 Sunset Blvd., West Hollywood 90069; first set 8:30pm; $10; (310) 652-7869; www.viperroom.com.
* * *
Read Don Heckman's jazz picks here. Read John Payne's plutonic Bluefat.com here.