Fri. Feb. 26 -- Percussionist and Pan-Afrikan Ark alum Derf Reklaw presents an African-American Heritage Celebration with drummer René Fisher, African dancers and surprises. At Angelus Plaza Senior Activity Center 255 S. Hill St., downtown 90012; 2pm; free (donations accepted); underground parking is a bit hard to spot; (213) 623-4352.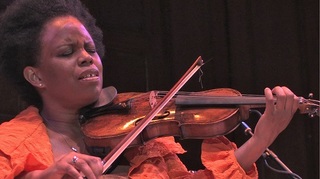 Fri. Feb. 26 -- Eclectic modern jazz violinist Regina Carter spins her own take on the folk music of the South; Americana rootsman Sam Amidon opens. A CAP presentation at UCLA's Royce Hall; 8pm; $29-$59; www.cap.ucla.edu.
Sat. Feb. 27 -- Trane-tastic tenor man Azar Lawrence always has a hot band; this time it's trumpeter Gilbert Castellanos (remember him from Black Note?), exemplary pianist Theo Saunders, trusted bassist Jeff Littleton and drummer Cecil Brooks III. At Roscoe's Seabird Jazz Lounge, adjacent to Roscoe's Chicken & Waffles, 730 E. Broadway, Long Beach 90802; $15; 9pm-1am; (562-787-0899); www.seabirdjazzloungelbc.com.
Sun. Feb. 28 -- Unpretentious avant improvisers Obihiro Cowboys (trumpeter Bobby Bradford, trombonist Michael Vlatkovich, tubaist William Roper) team up with extreme vocalist Anna Homler's JAB, featuring bassist Jeff Schwartz and percussionist Breeze Smith. Freedom is wasted on the young. At Highways in the 18th Street Arts Center, 1651 18th St., Santa Monica 90404; 7:30pm; $20/$15; (310) 315-1459; www.highwaysperformance.org.
Sun. Feb. 28 -- With Megadeth's new "Dystopia," this feels like about the eighth time the quartet have been hailed for returning to their groundbreaking '80s thrash form; the adaptability of guitarist-singer-songwriter Dave Mustaine continues to amaze as he conscripts a new co-guitarist (Kiko Loureiro) and a new drummer (masterful Lamb of God skinsman Chris Adler) to support old friend Dave Ellefson's bass. With postpunk perennials Suicidal Tendencies (!), Finland's shreddin' Children of Bodom (!!) and Denver thrashers Havok. At Hollywood Palladium, 6215 Sunset Blvd., Hollywood 90028; 9pm; only VIP tix left in the $300 range; www.livenation.com; (323) 962-7600.
Mon. Feb. 29 -- The L.A. Jazz Collective goes all out with pianist Matt Politano's trio, plus the stellar NIck Mancini Chamber Group, featuring the magnetic-melodic vibraphonist plus clarinetist John Tegmeyer, pianist Vardan Ovsepian, percussionist Brad Dutz, bassist Jordan Richards and vocalist Afton Hefley. Travis Flournoy rocks visuals throughout. At the Blue Whale on the third level of Weller Court Plaza, south of East First Street between South Los Angeles Street and South San Pedro Street, Little Tokyo 90012; 9pm-midnight; $15; 21+; parking $5 underneath off Second Street at the sign of the P in a circle; (213) 620-0908; www.bluewhalemusic.com.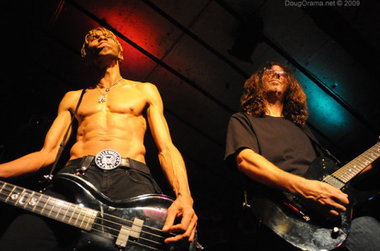 Tues. March 1 -- The harmonizin', heavy-rockin', dirty-funkin' progressive trio King's X celebrates the reissue of its two best albums, "Gretchen Goes to Nebraska" (1989) and "Faith Hope Love" (1990). With Kings of Spade, The Hard Way, Starch Monkey. At the Whisky, 8901 Sunset Blvd., West Hollywood 90069; doors 7:30pm; $20; www.whiskyagogo.com; (310) 652-4202.
* * *
Read Don Heckman's jazz picks here. Read John Payne's plutonic Bluefat.com here.