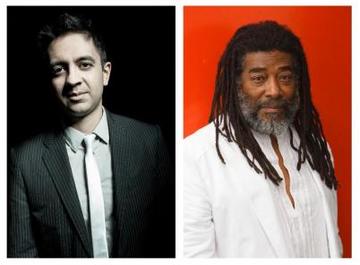 Fri. April 15 -- Don't let yer taxes distract you from one of the year's most significant jazz events, as lauded pianist Vijay Iyer (whose horizons continue to expand in every conceptual and musical direction) plays in duo with his mentor, trumpeter Wadada Leo Smith (acknowledged as one of the avant-garde's primary theoreticians). Pick up their new ECM CD. One to sink your mind into, and it's free. At Occidental College's Thorne Hall, 1600 Campus Road, L.A. 90041; 7:30pm (master class 5pm, reception 6pm); FREE; www.oxy.edu.
Fri. April 15 -- "Breaking the Chains," y'all, it's '80s pop-metal standard bearers Dokken. With The Hard Way, EXM, Aeraco, Brittany's Rage. At the Whisky, 8901 Sunset Blvd., West Hollywood 90069; doors 7pm; $30; (310) 652-4202; www.whiskyagogo.com.
Fri. April 15 -- As often happens with '80s hair metal, I can't figure out which version of Ratt ("Round and Round") this is. There are about five. With Stonebreed, Superfix. At the Canyon Club, 28912 Roadside Drive, Agoura Hills 91301; openers start at 7pm; $38-$58; (818) 879-5016; www.canyonclub.net.
Sat. April 16 -- One of the last of the original bop-connected pianists, melodic magician Kenny Barron leads a trio with bassist Kiyoshi Kitagawa and drummer Johnathan Blake. At the Wallis Annenberg Center for the Performing Arts, 9390 Santa Monica Blvd., Beverly Hills 90210; 8:30pm; $45-$55; www.jazzbakery.org.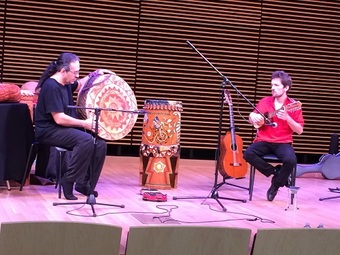 Sun. April 17 -- Spend a pleasant afternoon with the deep-rooted pre-Columbian sounds of Mexcla Music, featuring multi-instrumentalists Christopher Garcia and Jeronimo JXEL Rajchenberg, who know their skins, strings, wood and clay. At St. James Presbyterian Church, 19414 Ventura Blvd., Tarzana 91356; 4pm; FREE; (818) 345-2057.
Sun. April 17 -- Trumpeter Elliott Caine's ensemble plays original semitrad jazz in a bar, the way it oughta be. At the York Bar and Restaurant, 5018 York Blvd., Highland Park 90042; 7:30-10pm; no cover; (323) 255-9675.
Tues. April 19 -- Eclectic whirlwind and creative viola player Miguel Atwood-Ferguson presents "Les Jardins Mystiques," featuring Allakoi Peete, Gabe Noel, Greg Paul, Jamael Dean and Josh Johnson. At Del Monte Speakeasy in the basement of the Townhouse, 52 Windward Ave., Venice 90291; 9pm; $10; 21+.
Wed. April 20 -- Good vibes, spacy atmos and world rhythms abound with Carlos Niño & Friends (including Jamael Dean and Jamire Williams); grab their new CD (which has guest spots by Miguel Atwood-Ferguson, Kamasi Washington and the late Nate Morgan). The bill also features Chester Watson, Conrank, resident DJs and visuals by TeachingMachine. At Low End Theory in Airliner, 2419 Broadway, downtown 90031; 9:30pm; $10; 18+; www.lowendtheoryclub.com.
Thurs. April 21 -- Beautiful postbop with feel: guitarist Peter Bernstein's trio with organist Larry Goldings and drummer Bill Stewart. At REDCAT, 631 W. Second St., downtown 90012; 8:30pm; $30 (students $25); www.redcat.org, www.jazzbakery.org.
Thurs. April 21 -- Guitarist-barker Tommy Victor (Danzig, Ministry) is a true lifer, and he brings that hard-bitten attitude to Prong. With Meade Ave, Seven 4, Satanic Johnny, The Thrill Killers, Anschluss Amor. At the Whisky, 8901 Sunset Blvd., West Hollywood 90069; doors 7pm; $15; (310) 652-4202; www.whiskyagogo.com.
* * *



Read Don Heckman's jazz picks here. Read John Payne's plutonic Bluefat.com here.