Fri. April 1 -- SoCal blackthrashers Witchaven impale babies. With Old Coven, Horrid. At Complex, 806 E. Colorado St., Glendale 91205; 8pm; $20; 21+; full bar; www.complexla.com; (323) 642-7519.
Fri. April 1 -- Pop-jazzman Marco Benevento owns the keys to youthful clubsters' hearts; he's celebrating the release of "The Story of Fred Short." With Mikaela Davis, Wyndham. At the Bar Stage of Bootleg Theater, 2220 Beverly Blvd. near Alvarado, LA 90057; 8:30pm; $15; 21+; www.bootlegtheater.org.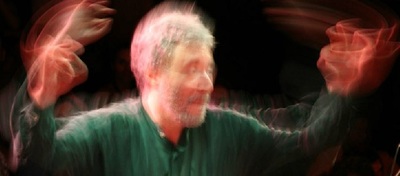 Fri.-Sun. April 1-3 -- SPECIAL ALERT. Go: Organic Orchestra churns up a mysterious maelstrom as drummer-leader Adam Rudolph motivates 25 musicians (this time including Bennie Maupin, John Beasley, Nicole Mitchell, Emily Hay, Ellen Burr, Charles Sharp, Michael Dessen, Dexter Story, Randy Gloss, Jeff Schwartz) via hand signals to ooze his dense harmonies, percolate African rhythms, and ride the ensemble waves with abstractified solos. Takes you somewhere better where spirit and community combine without hierarchy or doctrine. Hu: Vibrational (electronified world riddims from Carlos Niño & friends) opens. Highest recommendation. Photo by Noureddine El Warari. At Electric Lodge, 1416 Electric Ave., Venice 90291; 8pm; $22; tickets here.
Fri.-Sun. April 1-3 -- Guitarist for the ages Kenny Burrell leads an unrepentantly swinging quintet. At Catalina Bar & Grill, 6725 Sunset Blvd., Hollywood 90028; 8:30pm (7:30 Sun.); $27; (323) 466-2210; www.catalinajazzclub.com.
Fri.-Sun. April 1-3 -- On Fri. and Sat., gnarly/polished fusion guitarist Michael Landau kicks an electric trio with bassist Gary Novak and drummer Travis Carlton; singer David Frazee sits in for a few songs from Landau's 1991 "Burning Water." On Sun., Landau teams with wife Karen in the acoustic ballad duo Hazey Jane; the show benefits a fund fighting cystic fibrosis. At the Baked Potato, 3787 Cahuenga Blvd. West, Studio City 91604; 9:30 & 11:30pm (8 & 10pm Sun.); $30 ($20 Sun.); (818) 980-1615; www.thebakedpotato.com.
Sat. April 2 -- Go where Tin Pan Alley never went when songwriting gets reinvented by Acre Foot (Kaoru, Brad Dutz & friends) and Non Credo (Kira Vollman & Joe Berardi). It's still tunes, sorta. At Ark Gallery, 2599 Fair Oaks Ave., Altadena 91001; 7:30pm; $ 10; www.ark-arts.com.
Sun. April 3 -- Soulful trombonist Phil Ranelin celebrates the birthdays of Horace Tapscott, Freddie Hubbard and Randy Weston (he played with the first two, not sure about Weston) by interpreting their tunes. Buy Ranelin's new "Portrait in Blue" while you're there. At the Mayme Clayton Museum, 4130 Overland Ave., Culver City 90230; interview 1pm, music 2 & 4 pm; $20 tickets here; limited seating; (310) 202-1647.
Sun. April 3 -- Electronic composer Daniel Corral teams with guitarist Jeremy Kerner and Isaura String Quartet for an original approach to beauty and improv. Opening is the Bay Area guitar-cornet duo of Jameson Swanagon & Theo Padouvas. At Center for the Arts, 2225 Colorado Blvd., Eagle Rock 90041; 7pm; $10; (626) 795-4989.
Mon. April 4 -- Noisician Kenji Kuroda and feminist conceptualist Makiko Sakurai join with legendary Pasadena imaginators L.A. Free Music Society (Rick Potts, Joe Potts, Joseph Hammer, Mitchell Brown & the gang) for two sets of nonaligned polyarchy. At the Blue Whale on the third level of Weller Court Plaza, south of East First Street between South Los Angeles Street and South San Pedro Street, Little Tokyo 90012; 9pm-midnight; $10; 21+; parking $5 underneath off Second Street at the sign of the P in a circle; (213) 620-0908; www.bluewhalemusic.com.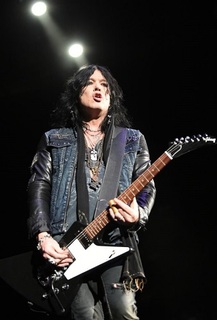 Thurs. April 7 -- Talk about a dude who just plain rocks, Cinderella's Tom Keifer has got the gritty screech (stand back, Axl Rose), the defiant hunch and a wicked touch on the slide guitar. In addition to circa-1990 'Ella hits such as "Gypsy Road" and "Somebody Save Me," he's flogging his 2013 "The Way Life Goes," a well-honed solo incursion of heavy blues & balladry. At the Canyon Club, 28912 Roadside Drive, Agoura Hills 91301; opener 8pm, Keifer 9pm; $28-$48; (818) 879-5016; www.canyonclub.net.
Thurs. April 7 -- LoCal boyz All Hail the Yeti crank a thumpin mix of Alice in Chains and unmechanistic modern metal groove; they're celebrating tomorrow's release of "Screams From a Black Wilderness." With We Are the Riot, Sisters ov the Black Moon, The Mendenhall Experiment. At the Whisky, 8901 Sunset Blvd., West Hollywood 90069; www.whiskyagogo.com; doors 7pm; $12; (310) 652-4202.
* * *



Read Don Heckman's jazz picks here. Read John Payne's plutonic Bluefat.com here.