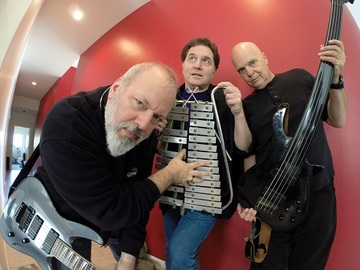 Fri.-Sun. May 13-15 -- Mike Keneally, Gregg Bendian & Doug Lunn (guitars/keys, percussion & bass) debut a fascinating trio concept to show off the best of these boundlessly creative fusionish musicians, whose credits range from Frank Zappa to Cecil Taylor to David Torn. They're recording live, so don't break your flask indoors. Highly recommended, and musicians love this venue. At Alva's Show Room, 1417 W. Eighth St., San Pedro 90732; 8pm (4pm Sun.); $20; www.alvasshowroom.com; (800) 403-3447, reservations suggested.
Sat. May 14 -- Microfest presents Isaura String Quartet performing works by microtonal composers John Luther Adams, Kraig Grady, Gloria Coates and Andrew McIntosh. Grady tells me, "Isaura is redoing a piece of mine, which gave me the chance to rewrite it. I've never been that good at getting my music right the first time on paper -- I always imagine it differently later. I'm much happier with the piece now." At Boston Court, 70 N. Mentor Ave., Pasadena 91106; 8pm; $30 ($25 seniors, $20 students); (626) 683-6883; www.bostoncourt.com.
Sat. May 14 -- Veteran master of the sensual saxophone Justo Almario directs the UCLA Charles Mingus Ensemble in interpreting the compositions of Mingus and other major jazz composers from a Chazzian point of view. Sounds very cool. In Bar Fedora in vegan restaurant Au Lac, 710 W. First St., downtown 90012 (behind REDCAT); 7:30 & 9:30pm; $20-$25 (students $10) plus two-item minimum, reservations advisable at www.saturdaynightjazzdtla.com; $7 underground parking.
Sat. May 14 -- Wayback Maryland progressive deathsters Dying Fetus blastbeat yer head in with stellar support from complex death proggers The Acacia Strain (newly reorganized under founding vocalist Vincent Bennett), plus Jungle Rot, Black Crown Initiate, System House 33, Cranial Engorgement, Pissed Regardless. At the Whisky, 8901 Sunset Blvd., West Hollywood 90069; doors 6pm; $25; (310) 652-4202; www.whiskyagogo.com.
Sat. May 14 -- As part of Open Studio weekend, Small Drone Orchestra (a.k.a. artist-photographer-musician Wild Don Lewis) sustains the meditation of the inner god. At the Santa Fe Art Colony, 2401 S. Santa Fe Ave., downtown 90058; 7pm; free.
Sun. May 15 -- SASSAS offers one of its panoramic outdoor spectaculars with experimental guitarist Bobb Bruno, trumpeter Dan Clucas and postmodern artist Simone Forti. At Baldwin Hills Scenic Overlook, 6300 Hetzler Road, Culver City 90232; 4pm; FREE except for the parking donation.
Sun. May 15 -- Scarf down brunch as Golen Palomino Syd Straw, a singer, songwriter and entertainer in a class by herself, engages you and makes jokes about her ass. With special guest Bob Woodruff. At the Federal Bar, 5303 Lankershim Blvd., North Hollywood 91601; 11am-2pm; no cover; www.nh.thefederalbar.com.
Sun. May 15 -- Elliott Caine picks up his trumpet and throws down the '50s-inflected original jazz with his ensemble. At the York Bar and Restaurant, 5018 York Blvd., Highland Park 90042; 7:30-10pm; no cover; (323) 255-9675.
Mon. May 16 -- The annual "Ride for Ronnie" to support the Dio Stand Up and Shout Cancer Fund rolls out (with "Sons of Anarchy" actor Emilio Rivera leading the pack) at Harley-Davidson of Glendale and ends at Encino's Los Encinos Park, where there'll be a noon-to-5pm concert by Great White, Lita Ford, Dio Disciples, Gabbie Rae, Budderside and more. My question: Why do so many hog riders have no mufflers? A motorcycling friend's answer: It's a safety thing, so motorists can hear them coming and avoid hitting them. My reply: That's a f*cking crock. Tickets $15-$35 and details at www.diocancerfund.org/events.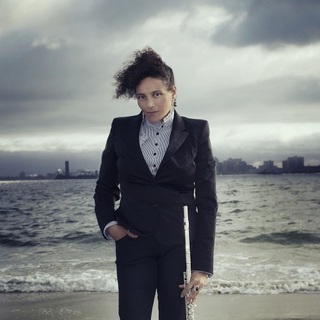 Wed. May 18 -- Former Chicagoan and current Southern Californian Nicole Mitchell plays her award-winning flute both solo and with superpercussionist Randy Gloss. Buy as many of their CDs as you can afford; this is topline stuff. At the Santa Monica Public Library, 601 Santa Monica Blvd., Santa Monica 90401; 7:30pm; free; smpl.org.
Wed.-Thurs. May 18-19 -- Pianist Gerald Clayton (so fresh and sensitive on Charles Lloyd's latest) teams up with coolly gymnastic vocalist Sachal Vasandani. At the Blue Whale on the third level of Weller Court Plaza, south of East First Street between South Los Angeles Street and South San Pedro Street, Little Tokyo 90012; 9pm-midnight; $15; 21+; parking $5 underneath off Second Street at the sign of the P in a circle; (213) 620-0908; www.bluewhalemusic.com.
* * *



Read Don Heckman's jazz picks here. Read John Payne's plutonic Bluefat.com here.