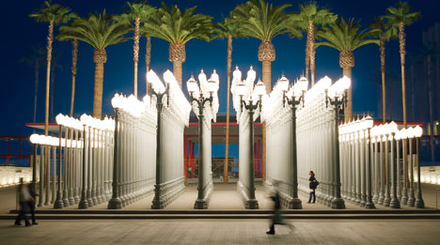 Deep bows to the L.A. County Museum of Art for maintaining its free Friday jazz shows. This long-standing patio series enriches the community by letting a mixed population breathe the air of free expression.
Although the series occasionally books flag burners such as the Pan Afrikan Peoples Arkestra, it liberates minds more stealthily when, as a couple of weeks ago, it presents mainstreamier jazzers like Eric Reed. A pianist who broke during the early 1990s with Wynton Marsalis and the admirable local group Black Note, Reed makes gateway music.
Though born in Philly, Reed moved here as a child and represents South Los Angeles like a native. From Dex to Mingus to Kamasi, that Angelean pedigree has implied a sound with a feel like sun on skin, like a backyard beer, like an uncompetitive gab session. Reed's fingers bring a taste of home cooking, and a sure sense of rhythm that needs no click track. When he strokes a phrase, you get the message; no dictionary required.
Half the crowd were there for the atmosphere, seduced by the spring evening air, by artist Chris Burden's forest of repurposed street lamps, and by the little playsquare where a kid can get lost among hundreds of hanging plastic strips. Hardcore jazz fans were digging the quartet, but the folks chatting over a glass of wine and the little girl chasing a ball down a path didn't know they were being deprogrammed by the magic of abstract thinking.
Most of the artists who play this patio know that the Tradition is well received here. Reed settled into the middle of the last century with the rhythmically contrasting Sonny Rollins/Miles Davis bopper "Airegin," following suit with selections from his own 2012 album "The Baddest Monk." He drew us in with Thelonious' irresistible mood piece "'Round Midnight," then spun our heads around with a long version of Monk's "Evidence."
Now, "Evidence" is one of my most loved Spherian concepts, a radical deconstruction of the carefree 1929 film-musical tune "Just You, Just Me" first recorded for Blue Note in 1948. (For a pointed lesson, consult Monk's "Live at the It Club," where he plays both in 1964.) Reed didn't try to duplicate Monk's original hair-raising, heart-stopping hesitations; that would have made us suspicious. So his band, with Seamus Blake's tenor reflecting the cool polish of '60s Monk sideman Charlie Rouse, kept up a gliding rhythm. But after the jagged riff sneaked away, a series of wide-open improvisations displaced the chords and rhythms into subtle new dimensions. After about 10 otherworldly minutes, Reed reprised the clangorous riff, more startling than before.
Without realizing it, patrons had experienced a deconstruction of a deconstruction -- a panoramic re-revision that, like Burden's lampposts, peeled and rewrapped layers of time, place, identity and emotion. Art can do that, and it felt good to be manipulated without being sold -- sedition, not perversion.
By the way, Reed and musical partner Willie Jones III sued breakout South L.A. rapper Kendrick Lamar in 2014 for ripping off the riff to their "The Thorn." Lamar had looped it sans credit throughout his "Rigamortis," wherein, significantly, he threatened to waste another wordsmith for ripping HIM off. I like to think that whole scenario was conceptual art too.


* * *


ABOVE: CHRIS BURDEN'S "URBAN LIGHT"