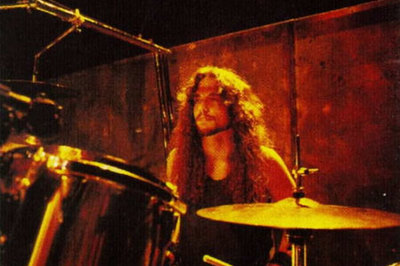 Fate has dealt the members of the heavy fusion band Ohm many a blow, the last being the death of former Megadeth drummer Nick Menza from heart failure onstage at the Baked Potato last Saturday.
To summarize the history of the group's damage: 1) Ohm guitarist Chris Poland (who also played in Megadeth but not at the same times as Menza) smashed his hand in a car door long ago; although the injury resulted in a permanently skewed pinkie on his left hand, he adapted the condition into his own unique playing style. 2) Superlative Ohm drummer David Eagle did not long survive heart bypass surgery last year. 3) Eagle was replaced by Menza, whose arm had been severed in a 2007 power-saw accident; the arm was reconstructed, allowing him to resume drumming. Now Menza has left us.
The son of notable jazz saxist Don Menza (Maynard Ferguson, Buddy Rich, Louis Bellson), Nick Menza was a hell of a skinsman. Maybe because Nick received instruction from his father's drummer friends, some observers have perceived jazz influences in his playing with Megadeth. Me, I just hear a musician with the chops to execute anything he can imagine and make it count.
Jazz-level skills have presented no drawback if you wanted to play metal in Megadeth. When guitarist Dave Mustaine started the band, he drew on performers with fusion backgrounds -- Poland and drummer Gar Samuelson. Contrary to the common view of metal drummers as bombast machines, Mustaine has often chosen beatmen who possessed a lot of feel, and Menza has been the template.
It's no accident that Menza served on Megadeth's most popular albums -- "Rust in Peace," "Countdown to Extinction," "Youthanasia" and "Cryptic Writings," all released in the 1990s. Listening to the 19 tracks featuring him on the excellent 2008 Megadeth double CD "Anthology: Set the World Afire," I can hardly imagine a better drummer for that great band.
Menza was heavy enough to drive simpler plodders such as "Skin of My Teeth" and "Angry Again"; he avoided meatheadedness by using his bass drum to emphasize a song's accents instead of just kicking evenly spaced beats. Importantly, he played a shade behind, adding not only bigness but a sensuality not every metal band could muster. Menza mastered every change on progressive multipart epics such as "Holy Wars," "Hangar 18" and especially "Ashes in Your Mouth," where he maintained confident forward motion despite dealing with hesitation rhythms and highly technical breaks. Even on the two-beat oompahs required of every thrash-rooted metal band, he never made you feel as if you were listening to an amped-up polka. Listen to his musical tom part at the beginning of "Trust" or his metal Bo Diddley turn on "Train of Consequences," and you'll understand why this particular drummer received so many songwriting credits on Megadeth songs.
Maybe Nick Menza should have ended his career on the stage of some big arena rather than in a small club. But at least he died in the presence of listeners who truly appreciated his art.