Fri. June 24 -- Funny how we thought the old hair-metal thing was just a fad, but practically all of those bands are still prancing in some form, like last surviving singer Marq Torien's BulletBoys, notable for "Smooth Up in Ya," a thudder whose deathless lyrics ("Don't let your lovin' go to waste/All it takes is just one date") never failed to excite a cringe up in me when KNAC had it on regular rotation in 1989. With The Hard Way, Made in America, Brittany's Rage, Doctors of the Earth, Little Green Men.At the Whisky, 8901 Sunset Blvd., West Hollywood 90069; doors 7pm; $20; (310) 652-4202; www.whiskyagogo.com.
Sat. June 25 -- I'm guessing Guitar Player mag perennial Chris Broderick's Act of Defiance is that he started his own band after leaving Megadeth. Ace shredder Broderick also made off with drummer Shawn Drover, whose downpushing arena drive was an even greater loss to the 'Deth. With Fused by Defiance, Kings of Crossfire, Infierno, Raven's Cry. At the Whisky, 8901 Sunset Blvd., West Hollywood 90069; doors 7pm; $15; (310) 652-4202; www.whiskyagogo.com.
Sat. June 25 -- Saxist Azar Lawrence redistributes the earth & sky legacy he received from Trane & Tyner, with pianist Mahesh Balasooriya, trumpter Michael Hunter, drummer Roy McCurdy and bassist Jeff Littleton, deep-souled messengers all. At Roscoe's Seabird Jazz Lounge, adjacent to Roscoe's Chicken & Waffles, 730 E. Broadway, Long Beach 90802; $15; 9pm-1am; (562-787-0899); www.seabirdjazzloungelbc.com.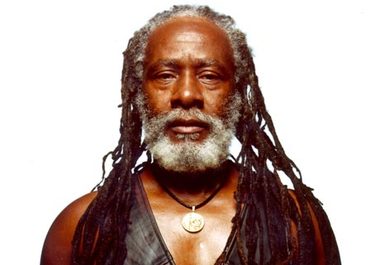 Sun. June 26 -- A true man of the hills and the jazziest of Jamaica's rootsmen, Burning Spear remains the reggae artist I listen to most. His live concerts with younger sidemen don't have the same vibe as the classic '70s recordings, but his rhythmically unpredictable renditions of "Marcus Garvey" and "The Sun" (may I request "Dry and Heavy"?) retain some of the old herbal magic. With electro urban reggae transformer Ky-Mani Marley and sweet songstress Etana. At the Hollywood Bowl, 2301 Highland Ave., Hollywood 90068; 7pm; $26-$155; (323) 850-2000; www.ticketmaster .com.
Sun. June 26 -- The AfroLatin (etc.) Alan Chan Jazz Orchestra with featured windman Guo Yazhi offers the pianist's program of comprovisational music inspired by the Silk Road. A fund-raiser for the Gateway Performance Series at Gateway Christian Church, 11760 Gateway Blvd., L.A. 90064; 7pm; $22; tickets here.
Tues. June 28 -- Microfest presents Aron Kallay (retuned piano) and Andrew McIntosh (violin), playing microtonal selections by several modern composers including Marc Sabat and Alex Miller, plus one from 1715 by Austrian polyphonist Johann Joseph Vilsmayr. At Monk Space, 4414 W. Second St. near Western, Los Angeles 90004; 8pm; $25 (students $20); www.microfest.org.
* * *



Read Don Heckman's jazz picks here. Read John Payne's plutonic Bluefat.com here.