Fri. July 15 -- Drummer Ryan Cross (ex-Cross-Hart Jazz Experience) grooves with that vintage relaxed insistence that so many attempt and fail. He calls this unit Ryan Cross Jazz Eclectic, with veteran vocalist Spanky Wilson guesting. Mainstream that doesn't sound old, in part cuz Cross isn't. At LACMA, 5905 Wilshire Blvd., LA 90036; 6-8pm; FREE; Friday summer jazz schedule here.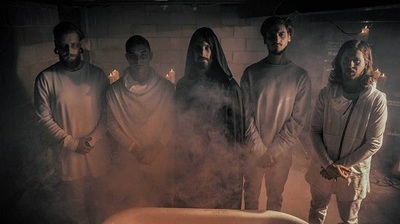 Fri. July 15 -- Dakota Nuclear Blast signees Ghost Bath sound like chordally hyperdensified U2 fronted by a screamer 'stead of a crooner, melodic yet torrential. With Underling, He Whose Ox Is Gored. At Complex, 806 E. Colorado St., Glendale 91205; 8pm; $10; 21+; full bar; www.complexla.com; (323) 642-7519.
Fri.-Sun. July 15-17 -- Since his youthful debut circa 1990, versatile trumpeter Roy Hargrove has figured out how to lead a band and please a crowd. At Catalina Bar & Grill, 6725 Sunset Blvd., Hollywood 90028; 8:30 & 10:30pm (Sun. 7:30pm); $30-$35; (323) 466-2210; www.catalinajazzclub.com.
Sat. July 16 -- Sensitive pianist Josh Nelson and his band celebrate the history of L.A. in music and images. And you can sign up for an optional 6pm bike tour of Hidden Los Angeles, part of the concept. At Boston Court, 70 N. Mentor Ave., Pasadena 91106; 8pm; $20-$45 tix here; (626) 683-6883; www.bostoncourt.com.
Sat. July 16 -- Death metal doesn't boil much harder than Dragged Into Sunlight. With Primitive Man, Cult Leader. At Complex, 806 E. Colorado St., Glendale 91205; 8pm; $10; 21+; full bar; www.complexla.com; (323) 642-7519.
Sun. July 17 -- Wondem Band performs multi-instrumentalist Dexter Story's African- and soul-influenced tunes; the nonet includes keyboardist Mark De Clive-Lowe, saxist Randal Fisher and percussionist Carlos Niño. Part of the Little Tokyo Garden Series at James Irvine Japanese Garden, 244 S. San Pedro St., Little Tokyo 90012; 5pm; $15; 21+.
Sun. July 17 -- Elliott Caine plays trumpet and gets a classic jazz sound without every tune being a cover. At the York Bar and Restaurant, 5018 York Blvd., Highland Park 90042; 7:30-10pm; no cover; (323) 255-9675.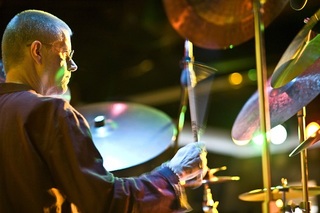 Wed. July 20 -- Alex Cline's world of percussion instruments is sufficient for a spiritual abstractionist journey; see what kind of chemistry generates in duo with yearning vocalist Areni Agbabian (you may have heard her with piano tornado Tigran Hamasyan). At the Santa Monica Public Library, 601 Santa Monica Blvd., Santa Monica 90401; 7:30pm; free; smpl.org; (310) 458-8600.
Thurs. July 21 -- Two hall o' fame guitarists, Leni Stern & Adam Levy, revive their well-remembered duo configuration; Stern says she rarely has more fun than when she's improvising interwoven lines with universal session master Levy. Grab Stern's new CD, "Dakar Suite," which adds even more colors to her already spectacular palette. At the Baked Potato, 3787 Cahuenga Blvd. West, Studio City 91604; 9:30 & 11:30pm; $20; (818) 980-1615; www.thebakedpotato.com.
Thurs. July 21 -- Vocalist Vincent Bennett and established Massachusetts prog metallers The Acacia Strain twist up an involving maelstrom. With Oceano, Knocked Loose, Culture Killer, To the Wind. At White Oak Music & Arts, 17646 Sherman Way, Van Nuys 91406; 6:30pm; $20; all ages; www.ticketfly.com.
* * *



Read Don Heckman's jazz picks here. Read John Payne's plutonic Bluefat.com here.