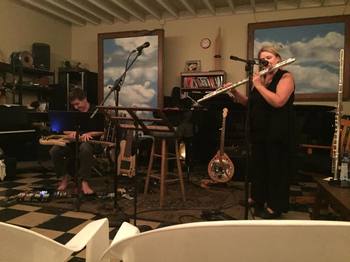 Sun. July 3 -- One-stop shoppin' for all your extreme-vocalizing and creative-improvising needs: singer-flutist Emily Hay in duo with bassist Steuart Liebig (both virtuoso electronicizers as well), plus JAB, featuring bass from Jeff Schwartz, vox-&-toys fireworks from Anna Homler and drums from Breeze Smith. At Center for the Arts, 2225 Colorado Blvd., Eagle Rock 90041; 7pm; $10; (626) 795-4989.
Sun. July 3 -- Funny and parodic, yeah, but The Title Trackers add genuine warmth and comradery to their creations of classic-rock title tracks ("Morrison Hotel," "Full Moon Fever") that never were. Celebrate Tracker Russell Wiener's birthday with cake, and dig KLOS jock Gary Moore spinning vinyl between sets. At the Satellite, 1717 Silver Lake Blvd., Silver Lake 90026; 8pm; FREE; 21+; (323) 661-4380; www.thesatellitela.com.
Mon. July 4 -- Bearded trailer lurkers Destroyer of Light drag out the Sabbath stone. At the Lexington (wonder what's playing at the Concord?), 129 E. Third St., downtown 90013; doors 8pm; $7; 21+; (213) 291-5723.
Tues. July 5-- Steven Tyler telling stories, singing his favorite oldies, reimagining Aerosmith hits and testing some of his new countrified solo material? Sounds like topdog entertainment to me. And the show promotes a fund for abused girls. At Dolby Theater, Hollywood & Highland, 6801 Hollywood Blvd., Hollywood 90026; 8pm; $45-$405; www.ticketmaster.com.
Tues. July 5 -- Parched twin-guitar stompers Blistered meet headbangin' Pittsburgh plodders Eternal Sleep. At Union, 4067 W. Pico Blvd., L.A. 90019; 6:30pm; $12; all ages; www.unionclubla.com.
* * *



Read Don Heckman's jazz picks here. Read John Payne's plutonic Bluefat.com here.