Fri. July 8 -- Multidirectional and lavishly belaureled pianist Billy Childs leads a quartet, probably on the mainstreamier side for this venue. At LACMA, 5905 Wilshire Blvd., LA 90036; 6-8pm; FREE; Friday summer jazz schedule here.
Fri. July 8 -- Wiggin' out under the direction of bigfoot, bigfeel drummer Kenny Aronoff (dig him on Tony Iommi & Glenn Hughes' "Fused"): rock dudes James LoMenzo, Brent Woods, Gilby Clarke, Teddy Andreadis, Chaz West, Eric Gales, Fabrizio Grossi. At the Baked Potato, 3787 Cahuenga Blvd. West, Studio City 91604; 9:30 & 11:30pm; $30 & $25; (818) 980-1615; www.thebakedpotato.com.

Sat. July 9 -- Performance explosionist Johanna Went curates a show of paintings by the late Mark Gash, whom you might remember from all the L.A. clubs. Talking about Gash will be subjects of his brush, including Donita Sparks, Texacala Jones, Magie Song and Meri Housecoat. Thru Aug. 21. Opening reception at Coagula, 974 Chung King Road, Chinatown 90012; 7-11pm; free; www.coagulacuratorial.com.
Sat. July 9 -- Sax prophet Michael Session (3-5pm) assembles an always blazing Afro-rooted sextet amid a mini-fest also featuring Darlene Smith, Carter and others. At 1265 Manchester Blvd. at Florence Ave., Inglewood 90301; when they stop, nobody knows; FREE.
Sun. July 10 -- Teen piano phenom Jamael Dean fronts The Afronauts, and you will be blown away, guaranteed. At the Mayme Clayton Museum, 4130 Overland Ave., Culver City 90230; interview by Jeffrey Winston 1pm; music 2pm; $20 tickets here; limited seating; (310) 202-1647.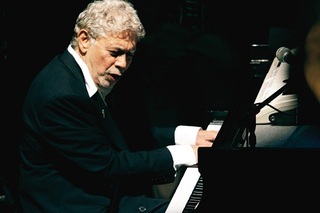 Sun. July 10 -- Vet Kingston pianist Monty Alexander leads a melodic trio with a touch of island feel, featuring notable bandleaders in their own right John Clayton (bass) and Jeff Hamilton (drums). At Catalina Bar & Grill, 6725 Sunset Blvd., Hollywood 90028; 7:30pm; $35; (323) 466-2210; www.catalinajazzclub.com.
Mon. July 11 -- Montreal deathtechsters Beyond Creation headline; grunting metalmen Rivers of Nihil spin a proggish web of drum-heavy squeal & stab; The Zenith Passage, Discarnate Motions, Transcend the Realm support. At the Whisky, 8901 Sunset Blvd., West Hollywood 90069; doors 7pm; $20; (310) 652-4202; www.whiskyagogo.com.
Thurs. July 14 -- Prog-metal zappers Zinggeschrei groove and rip. With Dark Water Rebellion, Utena, Hollow Rain. At Café NELA, 1906 Cypress Ave., Glassell Park 90065; 8:30pm; $5; beer only; 21+; www.cafenela.net.
Thurs.-Sun. July 14-17 -- Since his youthful debut circa 1990, versatile trumpeter Roy Hargrove has figured out how to lead a band and please a crowd. At Catalina Bar & Grill, 6725 Sunset Blvd., Hollywood 90028; 8:30 & 10:30pm (Sun. 7:30pm); $30-$35; (323) 466-2210; www.catalinajazzclub.com.
* * *




Read Don Heckman's jazz picks here. Read John Payne's plutonic Bluefat.com here.