Fri. Aug. 12 -- Nobody updates the vibraphone-organ trio like Nick Mancini, a holistic composer and an improvisational storyteller. At LACMA, 5905 Wilshire Blvd., LA 90036; 6-8pm; FREE; Friday summer jazz schedule here.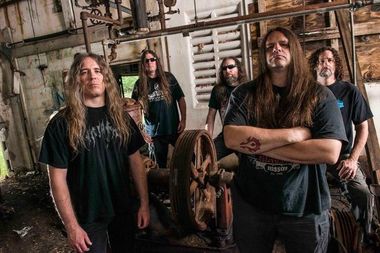 Fri. Aug. 12 -- Incredible death-metal bill: Florida originators Cannibal Corpse (pictured), pharaonic abstractionists Nile, harrowing groovers Suffocation, Brazilian riffmasters Krisiun, plus After the Burial, Carnifex, Revocation, Slaughter To Prevail, Ingested, Enterprise Earth. At the Novo, 800 Olympic Blvd., downtown 90015; 2:15pm; $25; all ages; www.axs.com; (213) 765-7000.
Sat. Aug. 13 -- Periphery helped build the ground floor of the seven-string prog-metal edifice, and they're still expanding. With Sikth, Chon, Toothgrinder. At the Regent Theater, 448 S. Main St., downtown 90013; 7pm; $25; all ages; www.ticketfly.com.
Sun. Aug. 14 -- In the '80s, Nigeria's King Sunny Ade was, uh, king of the Afro-groove explosion; prepare to dance. With Afro-funk rootsmanship from Dexter Story's Wondem, and longtime Sunny supporter Carlos Niño spinning his vast Afrobeat collection. At the Regent Theater, 448 S. Main St., downtown 90013; 8pm; $30; 18+; www.ticketfly.com.
Sun. Aug. 14 -- Iowan extreme metalmen Slipknot are yet another unlikely ('cept for the makeup) temporary alliance formed by Marilyn Manson, but it doesn't matter, because Manson's hooky screamin' and rad theatrics could entertain everyone from convicts to kindergarteners. With Of Mice & Men. At the Forum, 3900 Manchester Blvd., Inglewood 90305; 7pm; $20-$230; www.ticketmaster.com.
Sun. Aug. 14 -- Ever-searching (and usually finding) post-mainstream pianist Josh Nelson forms a new quartet with vibesman Tyler Blanton, bassist Alex Boneham and drummer Christian Euman. At the Blue Whale on the third level of Weller Court Plaza, south of East First Street between South Los Angeles Street and South San Pedro Street, Little Tokyo 90012; 9pm-midnight; $10; 21+; parking $5 underneath off Second Street at the sign of the P in a circle; (213) 620-0908; www.bluewhalemusic.com.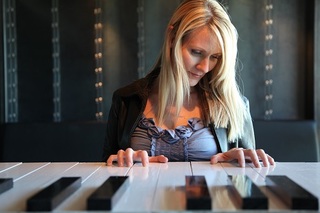 Wed. Aug. 17 -- Canadian pianist Dana Reason gets mystical, melodic and Monkish in a trio with bassist Jeff Schwartz and drummer Peter Valsamis. At the Santa Monica Public Library, 601 Santa Monica Blvd., Santa Monica 90401; 7:30pm; free; smpl.org; (310) 458-8600.
Wed.-Wed., Aug. 17-24 -- Chick Corea Elektric Band unites the legendary Miles keysman with his all-star posse: bassist John Patitucci, drummer Dave Weckl, guitarist Frank Gambale and saxist Eric Marienthal. At Catalina Bar & Grill, 6725 Sunset Blvd., Hollywood 90028; 8:30 & 10:30pm; $45-$65 (Fri.-Sat. early shows sold out); (323) 466-2210; www.catalinajazzclub.com.
Thurs. Aug. 18 -- Soprano saxist Jane Bunnett has been flying the flag of Cuban rhythms for decades, here with her all-femme ensemble Maqueque, featuring violinist Elizabeth Rodriguez, percussionist Magdelys Savigne, drummer Yissy Garcia and bassist Celia Jimenez, all of whom sing. At Moss Theater in the Herb Alpert Educational Village of New Roads School, 3131 Olympic Blvd., Santa Monica 90404; 8pm; $25; www.jazzbakery.org.
Thurs.-Fri. Aug. 18-19 -- This version of Guns N' Roses with Slash and Duff McKagen has a lot more claim to the name than any of Axl's solo circuses for the last couple of decades, and these starving musicians need your support. With doomy hard rock from Alice in Chains, which can claim that name cuz guitarist Jerry Cantrell was always the mastermind, and he can't help it if singer Layne Staley died. At Dodger Stadium; 6:30pm; $45 and way, way up; www.ticketmaster.com
* * *



Read Don Heckman's jazz picks here. Read John Payne's plutonic Bluefat.com here.