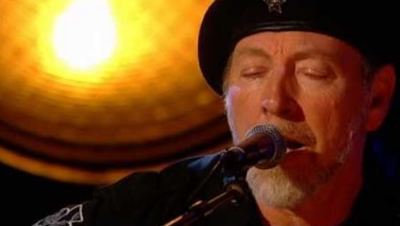 As the sun set at the Greek Theater Saturday, Richard Thompson opened for Bonnie Raitt. Masterfully though he performed, most everyone ignored him. He sang about hurt and death; they chatted about draperies. He gnarled his guitar with focused passion; they sipped canned margaritas. Bowing off after 25 dangerous minutes, Thompson's fine trio was snubbed for an encore. Then, after another hour and a half, the crowd wouldn't let Raitt go.
As an ivory-tower elitist, I sneered. As a Californian, I could guess where the audience was coming from.
Because: I'm afraid of Richard Thompson. I appreciate the way he's led the Britfolk movement since the '60s and borne the torch of poetic, mythic rock. I love seeing him live. I don't play his records, though. His darkness is too real.
Musical darkness, not cheery optimism, can locate the balancing point where a drowning emotional state turns toward the surface. But I want theatrical distance -- the way Nico wallows in self-inflicted despair, or Leonard Cohen abstracts pain into Torah, or Marilyn Manson channels the rage others feel (while he feels nothing). Shostakovich's orchestra, Suffocation's rhythm, Robert Johnson's dancing guitar -- these are masks, like the ones Sophocles' actors wore to separate Athenians from soul-deep memories of plague and war. It's called catharsis.
Richard Thompson not only plays dark, he IS dark. At the Greek, he made bitter jokes about his failure to engage the mob. His guitar turned cold violence into beauty. His rich but hollow voice (his Scottish father's legacy) was soaked with thwarted pride. He sang from the viewpoint of men who know the harm they've done and don't regret it. When he finished the tangled acoustic masterpiece "1952 Vincent Black Lightning," the story of a doomed narcissist, he acknowledged the applause for his biggest American hit with a half-resigned nod.
Thompson knew he was there to pick up a sliver of Bonnie Raitt's paycheck. Raitt loves him and granted him a guest solo, on which he casually played the wrong chords. I like Raitt and don't spin her records for different reasons. On this evening she dealt out her friendly crossover blues with summer ease, showing a roadworn rasp when she talked but somehow singing perfectly. She played slide with burning taste. Her band of seasoned studio musicians knew how to give a singer plenty of room. I wished she'd had to fight them a little.