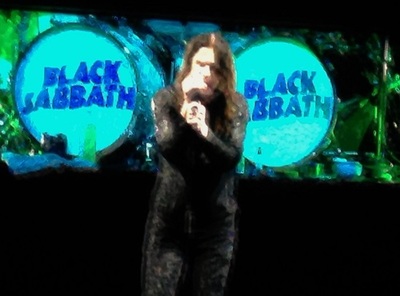 Shining out of the eastern darkness across the Cahuenga Pass, two white lights: the big cross on the hilltop above what used to be called the Pilgrimage Theater, and a nearly full moon. The two lights hovered adjacent on the horizon; then, as Black Sabbath thundered through their final Los Angeles performance, the moon rose through the trees to dominate the cross (a symbol traditionally reflected in steel on the chest of Ozzy Osbourne). "God bless you all!" shouted Ozzy. But which god?
Sorry, Luna, seems like the crucified one wins. Now that Black Sabbath are old, the idea that they're satanic seems even sillier. Yeah, some label cluck named their greatest hits "We Sold Our Soul for Rock 'n' Roll," eternally besmearing the moral/religious content of songs Sab played tonight, such as the prodding "After Forever" ("God is the only way to love") and the juggernaut "Children of the Grave" ("Love is still alive"). But for serious Sab deviltry, look to the '80s & '90s Tony Martin-fronted era, not the classic lineups where guilty Catholic Geezer Butler wrote the lyrics and death-fearing Ozzy sang 'em.
After a half century of Sabbath, and three decades of avowedly satanic and deliberately ear-punishing death metal from Florida and Europe, it's hard to remember the physical chill of first hearing the slow diabolic tritone of the song "Black Sabbath." But that riff and that brand have gathered a lot of emotional goo. So after we enjoyed a set by Long Beach's young yet authentic '70s-style soul-rockers Rival Sons (lungs! thuds! manes! slide! Farfisa!), "Black Sabbath" triggered a chain of reactions. It has become our outsider anthem. It made us really look at our brothers' survivor faces. It made us glad that we listened to the riffs instead of the hipsters.
The riffs of "Fairies Wear Boots" and "Iron Man" gave us power, and the effortless tempo transitions made us feel we could control it. We felt dark, and Black Sabbath gave us company. We thought we were going crazy, and Ozzy demanded we go right ahead. We were slaves singing our own kind of blues, and with deep-rooted bouncers like "Behind the Wall of Sleep," we rattled our chains in universal sympathy and woke up refreshed.
We rocked tonight because Ozzy, Tony and Geezer did. Gotta say again that li'l-Jesus drummer Tommy Clufetos is no Bill Ward, but his energy, skill and on-the-beat push brought a youthful optimism to the party, and that ain't a bad thing when your bones are bending toward the dirt. Things can grow from dirt.
As always, Black Sabbath closed with the machine-gun blast of "Paranoid." Are we still paranoid? Of course -- we get more reasons every day. But the song tells us to enjoy life. Yeah. I mean, yeah. Yeah.
* * *
PHOTOS BY FUZZY FUZZBOURNE, EXCEPT PANORAMIC BY LYNN HOGANSON.


Read my 2014 review here.