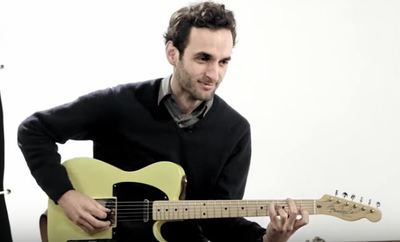 Skinny stubbled guy on a chair. Shy smile. Telecaster electric guitar. That's it. Oh, and a limitless sensitivity complementing an incredible depth of musical knowledge.
Deb said Julian Lage (lazh) made her cry. I was mainly fascinated by all his various arts. First was the Charlie Haden idea that you think about every note -- not just its place in the stream but its volume, attack, inflection. Then there was his ability to make strange sequences sound like pretty melodies (human expressions, said Deb). And to fill out the picture, Lage situated the melodies within an ever-changing gallery of interlinked chordal structures, moving from one to another with easy slides and irregular arpeggios, usually founded on effortless low-string plucks that served as bass lines.
Lage didn't worry about what style he was playing -- as Charlie Parker said, it was just music. Still, echoes sounded. I kept thinking about Willie Nelson during his introductory "Ryland," then realized that the chords resembled "Funny How Time Slips Away." A quick high arpeggio on one original recalled Al Casey's guitar work on the Nilsson version of Fred Neil's "Everybody's Talkin'." Lage tossed a Thelonious Monk quote into George Bassman's old standard "I'm Getting Sentimental Over You" in tribute to Monk's fondness for the tune.
Not everything offered such easy resonances; in fact, Lage deliberately thwarted preconceptions by calling a country-tinged number "Japan" and an Afro-picked composition "Peru." Picking with steady momentum via a plectrum and his fingertips, he showed consistency only in the fact that it all sounded like his work, and that it all arrived with his personal brand of sweet humility. As he pulled off one elegant, delicate stroke after another, his wide eyes seemed to wonder, "Where did that come from?" The audience knew, and gave him a standing O.
Set up on two facing Steinway pianos, Craig Taborn and Kris Davis stirred up a shifting boil of dense harmonies and counterpunching accents. Although versatile, Taborn has been valued by artists such as James Carter, David Binney and Michael Formanek for his economical use of space and his clear colors, so this congested format did not serve his strengths. The compositions (mostly Davis', it felt like) came off as exercises in form, almost beautiful but lacking beauty's joy. The overall stasis, reminiscent of Philip Glass' variations on themes but far less simple, must have been just what the two skillful musicians intended, but not what most of the stealthily exiting attendees wanted to hear.