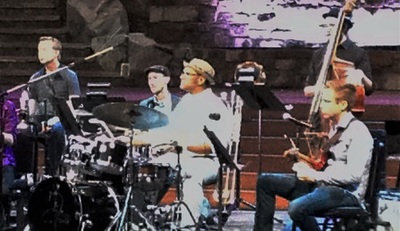 In about three months, José Gurría-Cardénas had to compose a major piece about L.A. for a Los Angeles Jazz Society commission, create a score (without any sheet music to start from) for Ornette Coleman's symphonic composition "Skies of America," rehearse them both with his 22-piece Gurrisonic Orchestra, and perform them at Angel City Jazz Festival. Though Gurría's cardiologist may not agree, the drummer-bandleader's efforts met with great success.
The commission, "Street Signs," evoked our city so strongly that we could smell it. Based on Gurría's story of a Mexican immigrant woman arriving from her small hometown, the episodic music pushed through traffic with dissonant harmonies, countervailing rhythms (vividly accented by Gurría's busy drums), and a cinematic sense ranging from Chaplin to horror movies. Gurría credited conductor Marc Lowenstein with "solving problems I didn't know we had," and Lowenstein's sure direction kept the momentum flowing while singer Martha Gonzalez's desperate dignity, mirrored by the multidirectional urgency of Don Byron's clarinet, left room for hope. As bleak as Gurría's portrait sometimes became, it always carried a strong current of the composer's own lighthearted optimism.
Then the Gurrisonic Orchestra made us hear "Skies of America" in a whole new light, its contrasts of volume and color allowing Coleman's dense conception to breathe freely. Daniel Szabo's piano sprinkled unaccustomed refreshment, while the stereo guitars of Tom McNalley (broken blues) and Alexander Noice (languishing argument) represented the angel and the devil inside Coleman's head -- forces also battling in the global context. Flute harmonies swathed wounds in gauze; sad strings gave way to giddy dancing and eventually a determined march, with Justo Almario's tenor sax offering preachful exhortations. The ever-building performance suggested emotions in persistent flux, maybe even progress: The orchestra's concluding sigh sounded like weariness, not resignation. A worthy marker on this epic's 40-some-year timeline.
Pharoah Sanders turned the clock back to a time when spirituality was offered as an avenue to transcend racial oppression. His beautiful, flowing lines and sing-along mantra riffs embodied a peaceful attitude that was already being challenged when he broadcast it half a century ago, and although its currency has become somewhat devalued, the flashbacks to "Karma," "Tauhid" and "Live at the East" provided a welcome unifier in a mixed festival setting. Pianist William Henderson took the role of jazz Liberace, pouring on the sweet balm as well-traveled and technically acute drummer Marvin "Smitty" Smith locked into oceanic swells and Latinate cookery with bassist Mike Gurrola (man, that kid nails the rhythm), and veteran guitarist Jacques Lesure interjected bluesboppy commentary. Wizardly Sanders made his biggest impression, though, when he danced -- white hat, white coat, white beard, swinging heavy sleigh bells, shaking two huge tambourines, chugging across the stage with slow elbow movements. He will be 76 next week. Happy.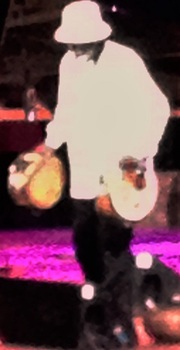 * * *


PHOTOS BY DEBI DOORZ AND FUZZY BLINDERS.