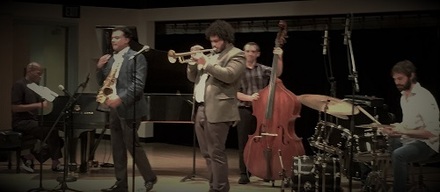 The definitions of harmony use the word "pleasing" a lot, but what pleases people changes over time. In the Middle Ages, the Church condemned anything more complex than unisons; in the mid-1900s, bluesy sevenths and flatted fifths were still widely considered dissonant. It's taken about a century, but the expanded harmonic field pioneered by Schoenberg and Stravinsky now hurts the ears of far fewer listeners, especially jazz fans. Tonight, we heard a passel of musicians arrange the 12 tones in unusual configurations, yet they pleased us mightily and even, like, swung.
On the surface, Joshua White's Codes felt like a '60s Coltrane-era revival. Dwight Trible's powerful singing and emotional poetry recitations swirled up and around the clean-lined auditorium, turning it into a church of rebellion. And Ralph Moore's seasoned tenor sax made a firsthand connection to the smoky blues and Pharoah Sanders-like melodic preaching from half a century back. The piano of wiry White himself often echoed McCoy Tyner, especially in the floating vamps that dominated his compositional repertoire, but White spread a wider harmonic net, using every note on the keyboard to spin long, dancing, thrilling lines, whether operating within a levitation, a waltz or a spiritual. Trible called him the baddest pianist on the planet, and one hesitates to argue. Bassist Dean Hulett and beaming drummer Jonathan Pinson plainly had more in common than their braids, locking into a dynamic, hard-hitting groove that made few obvious references to the more mystical Trane template of Jimmy Garrison and Elvin Jones.
White belongs to that exceptional category of musicians who add even more to others' ensembles than to their own. As a member of alto saxist Rudresh Mahanthappa's Bird Calls in tonight's second set, he recalled the turn-of-the-millennium days when Mahanthappa augmented pianist Vijay Iyer's bands, together creating a new jazz language that incorporated the music of India. Since Mahanthappa's current concept is a tribute to Charlie Parker, we could cast White in the role of Bud Powell, following the leader to the furthest reaches of his imagination. White's aggressive chromaticism fit right in with that of Mahanthappa, who, after an appropriate drone transition, paired himself on the front line with curly-burly trumpeter Adam O'Farrill to execute daring unisons and harmony riffs jacked up to a level of speed, mathematical advancement and individual note inflection that Bird and Diz never imagined. Dissonant? They made the term obsolete. They got rhythm, too, counterpointing like caged electrons with the unhesitating and nearly miraculous support of bassist Thomson Kneeland and drummer Dan Weiss. If Parker communicated the spirit of his time -- oppression broken with cool, coded mastery -- Mahanthappa updated the vibe to something superintelligent, defiant and almost arrogant. It wasn't purely fun, but revolution rarely is.
Thanks for another great Angel City Jazz Festival!


* * *


PHOTO BY DEBI DOORZ.