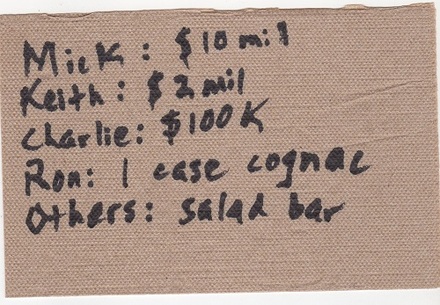 Back in the late summer of 1989, I stopped into Ye Rustic Inn for a beer, and there, all lined up at the bar, were the Rolling Stones. At 3 in the afternoon the place was empty, so I took the barstool next to the Stones and ordered them a drink. (One draft Bud to share, because I worked for a newspaper and had holes in my shoes.)
"Rolling Stones," I said, "you should make a blues album. You don't sound like you're having much fun with your studio records, and everyone knows you kill it when you're mopping up some old Jimmy Reed. What do you say?"
Keith Richards slugged down the whole schooner; the rest disdained to compete. Flashing his storebought teeth, Keith jerked his head at Mick Jagger, who was adding up numbers on a napkin. I understood that Keith would be up for the blues thing, but this singer bloke would never cooperate.
Down at the end, Charlie Watts eked a shrug of concurrence. Ron Wood's head dropped onto the bar, his shag slipping over his eyes. Jagger ignored me.
Okay. I told the Rolling Stones I was going to hit the loo; instead I sneaked out the back without paying.
Fifteen years later, Aerosmith delivered "Honkin' on Bobo," an album of blues covers. For a minute I thought I had advised the wrong band -- the tavern had been dark, and they do look similar. Although Aerosmith grooved on those Bo Diddley and Willie Dixon tunes, "Bobo" did zilch for their career; my suggestion proved stupid. Obviously the Stones were not going to do the same thing.
Oh. Well. Now I'm trying to figure out how to milk cash from my stupid recommendation. Royalties in my mailbox? Not likely. But at least we got some good music, and the Stones got some ya-yas out.
Happiest is Watts, who has sounded for decades as if he were imitating a click track; here he thumps the skins with real feel. Richards and Wood bust intertangled rhythms & leads through gritty little amps, doing justice to their models, Hubert Sumlin and the Howlin' Wolf band. Jagger's contract must have specified that he would not be outsung by Keith, who sticks to axwork; in return, Jagger unstraps his guitar and blows plenty of true-blue harmonica. Mick's black vocal drawl has settled into a familiar zone where it doesn't seem fake, and when the other guys botch a chord change, his easy syllable-squeezing makes us believe it was all part of the plan.
The plan wasn't much -- the Stones cut basically live, and it sounds that way, the guttiest numbers being Memphis Slim's slow-dance title moan, Little Walter's upbeat "I Gotta Go" and Buddy Johnson's gleefully carefree "I'm Just Your Fool." Producer Don Was could not indulge his penchant for overcleaning, since there was no way he could scrub the piss and sawdust off this slab.
Will I ever listen to it again? I dunno -- when it's rotgut party time, Howlin' Wolf's "Live and Cookin'" will likely get continued preference. It's a joy to hear the Stones (and Eric Clapton on a couple of tracks) burning the barn, though; blindfolded, you wouldn't suspect they were rich English geezers. Next time they hit Ye Rustic, the drinks are on me. This offer applies to happy hour only.