Fri.-Sat. Dec. 16 -- Never thought another blues-rock guitarist would get semi-big in my lifetime, but Joe Bonamassa has done did it with his vintage guitars, sumptuous tones and shaded pickin'. (Sings good 2.) His band includes drummer Anton Fig, bassist Michael Rhodes, keyboardist Reese Wynans, trumpeter Lee Thornburg and saxist Paulie Cerra. At Dolby Theater, Hollywood & Highland, 6801 Hollywood Blvd., Hollywood 90026; 8pm; $79-$149; www.dolbytheatre.com.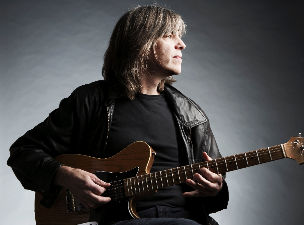 Fri.-Sun. Dec. 16-23 -- Michael Stern takes you on an all-around upside-down fusionistical guitar ride that feels quicker than it actually is. The star ensemble: drummer Dave Weckl, saxist Bob Franceschini and bassist Tom Kennedy. At Catalina Bar & Grill, 6725 Sunset Blvd., Hollywood 90028; 8:30 & 10:30pm; $25-$30; (323) 466-2210; www.catalinajazzclub.com.
Sat. Dec. 17 -- Paul Lacques and Double Naught Spy Car (10pm) turn their sporty Aston-Martin into a sleigh with some new & crazy instrumentals. With Schizophonics (12am), Santa Sabbath (Bob Lee, Jonathan Hall, Pat Hoed, John Collinson, 11pm), Lonnie Marshall (9:15pm) and Bad Water Bob & Bill Tutton (8:45pm). At Café NELA, 1906 Cypress Ave., Glassell Park 90065; 8pm; $10; beer only; 21+; www.cafenela.net.
Sat.-Sun. Dec. 17-18 -- Power of the Riff Fest presents the heaviest, sludgiest & smokiest metal. Saturday it's Wolves in the Throne Room, Incantation, Pelican, all-stars Bloodclot, Gag, Necrot, Crypt Rot. Sunday smears out Neurosis, Nails, Kowoloon Walled City, Gatekeeper, Obliterations, Lies. At the Regent Theater, 448 S. Main St., downtown 90013; doors 4:30pm; $33 per day; all ages; www.ticketfly.com.
Sun. Dec. 18 -- Josh Johnson, Evil Genius and Similar Fashion are the avantish attractions at this week's Jazz Night. At Bootleg Theater, 2220 Beverly Blvd. near Alvarado, LA 90057; 8pm; $10; www.bootlegtheater.org.
Sun. Dec. 18 -- Trumpeter Elliott Caine and his ensemble swing a blue Xmas. At the York Bar and Restaurant, 5018 York Blvd., Highland Park 90042; 7:30-10pm; no cover; (323) 255-9675.
Wed. Dec. 21 -- Hey, it's an open-invitational performance of Terry Riley's minimalist landmark "In C"! The press release says the Who's "Baba O'Riley" was named after Terry (probably cuz of the famous synth arpeggio); I did not know that. At the Santa Monica Public Library, 601 Santa Monica Blvd., Santa Monica 90401; 7:30pm; free; smpl.org; (310) 458-8600.
* * *



Read Don Heckman's jazz picks here. Read John Payne's plutonic Bluefat.com here.