Fri.-Sun. Jan. 6-8 -- Saw Pharoah Sanders at the Angel City Fest a few months ago, and Coltrane's co-saxist may not have re-created 1965, but 1970? Pretty close. He'll emphasize the Chicago soul side of jazz with classic pianist Harold Mabern's trio. At Catalina Bar & Grill, 6725 Sunset Blvd., Hollywood 90028; 8:30 & 10:30pm (7:30pm Sun.); $35-$40; (323) 466-2210; www.catalinajazzclub.com.
Fri.-Sun. Jan. 6-8 -- Jon Landau (here teaming in a quartet with blues singer-axman Kirk Fletcher) rocks a loud & penetrating fusoid guitar, except Sunday, when he backs wife Karen in the resonant acoustic outfit Hazey Jane. At the Baked Potato, 3787 Cahuenga Blvd. West, Studio City 91604; 9:30 & 11:30pm; $20; (818) 980-1615; www.thebakedpotato.com.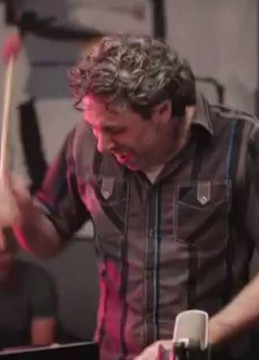 Sat. Jan. 7 -- Nick Mancini makes the vibraphone sing in a trio with B3 organist Ty Baille and drummer Abe Lagrimas, promising sofas and an actual wood fire on location! At Miles Theater, 1130 Lincoln Blvd., Santa Monica 90403; 8:05 & 9:30pm; $10; bevs & snax available; reservation details (recommended) here.
Sat. Jan. 7 -- For forward-thinkin' post-postmodern swing, try grounded but wild saxist David Binney in a superbad quartet with pianist Gerald Clayton, bassist Eric Revis and drummer Andres Salazar. At the Blue Whale on the third level of Weller Court Plaza, south of East First Street between South Los Angeles Street and South San Pedro Street, Little Tokyo 90012; 9pm-midnight; $20; 21+; parking $9 underneath off Second Street at the sign of the P in a circle; (213) 620-0908; www.bluewhalemusic.com.
Sat. Jan. 7 -- Custer Sims Meier (8pm) slam latter-day Lynyrd Skynyrd/Steve Earle drummer Kurt Custer into a classic-rock trio that will motivate your mojo. With Purposeful Porpoise (9pm), Power (10pm), Ramones tribute Too Tough 2 Die (11pm) and Strange Weather (12am). At Paladino's, 6101 Reseda Blvd., Tarzana 91335; cheap; (818) 342-1563.
Sat. Jan. 7 -- The plugged-in conceptual duo Electric Sound Bath is your kids' entry drug for weird music at this month's "Soundspark." A SASSAS presentation at the Children's Theater in West Hollywood Library, 625 N. San Vicente Blvd., West Hollywood 90069; noon; FREE; www.sassas.org.
Sun. Jan. 8 -- Show up, plug in, drop out in the electronic jam session Soundshoppe. At Center for the Arts, 2225 Colorado Blvd., Eagle Rock 90041; 1pm; free; www.sassas.org.
Sun. Jan. 8 -- Uh-oh, lookit the exciting quartet that post-Ornette saxist Gavin Templeton has lassoed: pianist Joshua White, bassist Richard Giddens and drummer Gene Coye. Opening (though they could be closing) is the dramatic abstractionist Open Gate Ensemble featuring the multitalented instrumentalist-singer Will Salmon, pipa player Jie Ma, extraordinary percussionist Alex Cline, and, as if that weren't enough, the Balinese dance duo Noman and Nanik Wenten. You'll be ashamed you didn't pay more. At Center for the Arts, 2225 Colorado Blvd., Eagle Rock 90041; 7pm; $10; (626) 795-4989.
Thurs. Jan. 12 -- World-exploring guitarist Robert Jacobson expands your mental geography with percussionist Jonathan Saxon, bassist Janie Cowan and friends. At Unurban Coffeehouse, 3301 Pico Blvd., Santa Monica 90404; 7:30-10:30pm; no cover with one-item minimum; free parking across the street behind US Bank; www.unurban.com.
* * *



Read Don Heckman's jazz picks here. Read John Payne's plutonic Bluefat.com here.