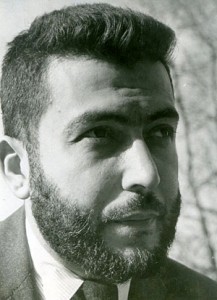 Talking to Concord Music's Tom Biery about the just-deceased Nat Hentoff, I said Hentoff seemed to have written liner notes on about half my jazz collection. When I went back to look at them, I also noticed that the essential yet modest Hentoff used up much of his wordage in quoting others -- as if he couldn't have said it better himself. He could.
Dexter Gordon, "Our Man in Paris"
". . . the soaring assurance, the delight in improvising, the unflagging resourcefulness and the bursting ardor of his attack."
Archie Shepp, "Fire Music"
". . . reaching into all there can be of life, plunging through the brittle evasions of the non-livers -- those who just exist."
Pharoah Sanders, "Tauhid"
"The opponents of what's happening now seem to be charging that too much emotion is erupting in this music . . . But too much emotion for whom?"
Ornette Coleman, "Something Else"
"Far from being esoteric or abstract, Ornette's story is as basically rawly emotional as anyone's in jazz."
Albert Ayler, "Live at the Village Vanguard"
"Since Ayler is wholly committed to his revelation of truth in music, he has had no choice but to wait for listeners to perceive the aural implications of the-times-they-are-a-changin'."
Andrew Hill, "Point of Departure"
"The unyielding motivation in Hill's music is his desire to keep finding out who he is and to make his music out of that deepening knowledge."
Charles Mingus, "Chazz"
" . . . the most compelling and confusing and unpredictable and open and closed and wholly uncategorizable man I've ever known in the music."
Cecil Taylor & Buell Neidlinger, "New York City R&B" (produced by Hentoff)
"I am in no way attracted to the mystic, but I remember very well that the sense -- the weight -- of this music stayed in the room long after Cecil and his associates had left."
Introduction to Hentoff's book "Jazz Is"
"As a boy . . . I was in awe of jazz musicians because of their power, because of the mystery of their sinuous but overwhelming power. Nothing else in my experience was so exhilarating."