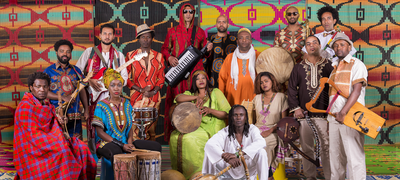 Sat. Feb. 25 -- Twelve members, 11 countries that touch a primal river: The Nile Project brings together instruments and rhythms from all over Africa for a creative synthesis. At the Valley Performing Arts Center, 18111 Nordhoff St., Northridge 91330; 7pm; $28-$58; www.valleyperformingartscenter.org.
Sat. Feb. 25 -- Trumpeter Elliott Caine and his relaxed jazz sojourners make this old steak house feel like your living room. At Colombo's Restaurant, 1833 Colorado Blvd., Eagle Rock 90041; 9:30pm-midnight; no cover; (323) 254-9138.
Sat. Feb. 25 -- Arts Crawl South Pasadena has music and art and crafts and . . . stuff. Of some kind. At some places. But in the vicinity of 1121 Mission St., South Pasadena 91030; 5-9pm; free of charge; free of details.
Sat.-Mon. Feb. 25-27 -- Popular multiculural jazz piano gusher Tigran Hamasyan whips it up solo, which is a great way to see him. At the Blue Whale on the third level of Weller Court Plaza, south of East First Street between South Los Angeles Street and South San Pedro Street, Little Tokyo 90012; 9pm-midnight; $25 (first come, arrive around 8pm to increase likelihood of ticketing); 21+; parking $9 underneath off Second Street at the sign of the P in a circle; (213) 620-0908; www.bluewhalemusic.com.
Wed. Feb. 1 -- Experience Hendrix may feature Jimi's bassist Billy Cox, blues legend Buddy Guy, Ozzy shredder Zakk Wylde, latter-day bluesman Jonny Lang, roots guy Kenny Wayne Shepherd and fusioneer Dweezil Zappa, I think, but it's damn hard to tell. Anyway, they can all play the hell out of the Seattle guitar monster's catalog. I request "Manic Depression." At the Wiltern, 3790 Wilshire Blvd., LA 90010; 7pm; $50-$323; (213) 388-1400; www.livenation.com.
* * *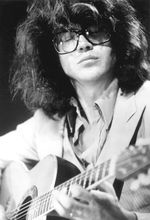 R.I.P.: Another Seattle guitarist, Larry Coryell. One of the metaljazz pioneers circa 1970, he also excelled at lots of other genres, from classical to Indian-influenced drones, but I most admired his speedy bursts of coherent but unpredictable intensity on distorted electric. Coryell returned to fusion in 1998 alongside drummer Steve Smith and keyboardist Tom Coster with "Cause and Effect," a blazing powerhouse of an album that even improved on his classic early stuff like 1970's "Spaces" (with John McLaughlin, Chick Corea, Billy Cobham and Miroslav Vitous). Dude was underrated.
And: How come nobody told me Alphonse Mouzon died on my December birthday following kidney surgery? The thunderous drummer was an ideal complement to Coryell in the influential Eleventh House (1973), and also beat skins with Tommy Bolin, Miles Davis, Weather Report, McCoy Tyner, Azar Lawrence and lots of others. He led his own all-star bands for many years, playing mostly around SoCal. I exchanged emails with Mouzon regularly; a year ago he was excited about finishing a new Eleventh House album with Coryell. Where the hell is it?
* * *
Read Don Heckman's jazz picks here. Read John Payne's plutonic Bluefat.com here. Read Brick Wahl's noirish music commentaries here.