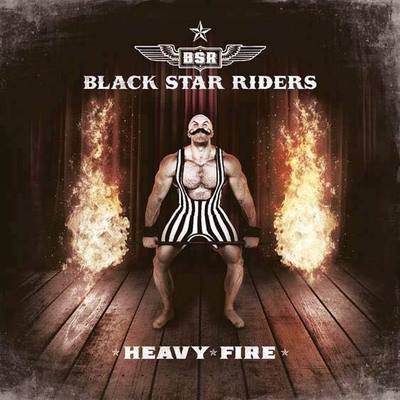 If '70s hard rock is a wreck at the bottom of the English Channel, it can still look mighty cool as all them twisty barnacles continue to grow all over the masts. Thin Lizzy spinoff Black Star Riders have been maintaining the deck & keel for four years, and with their third album they've addressed the only faint niggle that a critic could crit.
That is: You could say BSR's sturdy ribs previously stood a bit too bare. Even classic essentialists such as Free and Scorpions felt the need to lush things up from time to time; Black Star founding guitarist Scott Gorham & co. have seized this moment to raid the kitchen for supplementary garnish, resulting in their deepest and maybe most enduring slab of asskickery.
The overachieving attitude lets you know the guys really care. That's clear from the start with the hard & heavy title song, which sounds more like two songs when it downshifts into an evil groove reminiscent of Nuge's "Stranglehold" and then comes blasting back with bluesy slide guitars and kegs o' chaos. Such tempo tricks abound. Rarely just plowing forward, BSR keep a dirty load in their pants with the "Wecome to the Jungle" funk of "Thinking About You Could Get Me Killed" and singer Ricky Warwick's discwide determination to squeeze rhythmic juice from vivid lyrics such as "I feel like a needle on an old phonograph/Skipping all over the tracks" ("Testify or Say Goodbye"). If a song or a riff starts to sound predictable, you're likely to hear a key change or, from Southern-bred co-guitarist Damon Johnson, a blues-sour 7th harmony. The trademark twin-guitar harmonies ring true without tiresome overuse. Keyboards? What the hell, sure! A few songs even pile on a trio of female soul singers wailing out proper justice to the Merry Clayton tradition.
Play this on the big speakers to savor the labors of superstar producer Nick Raskulinecz. On BSR's debut, "All Hell Breaks Loose," Kevin Shirley's meaty analog sound seemed ideal for this throwback band, but on "The Killer Instinct" and especially here, Raskulinecz's modern approach shows that presto-digitalizations can possess their own sensual advantages, permitting a full slamma-mamma treatment of Jimmy DiGrasso's drums as well as delicately balanced overlays of multiple guitars and effects. Listeners lacking CD options can tap an mp3 of "Heavy Fire" without suspecting that gremlins thieved their fudge.
Most of the album excels, and the rest comes close. One concern: The lunging "True Blue Kid" finds Warwick moaning, amid stage & show imagery, that he's gotta get out. Let's hope he's not talking about Black Star Riders, cuz this soulful, powerful, poetic singer has never found a setting so ideal.