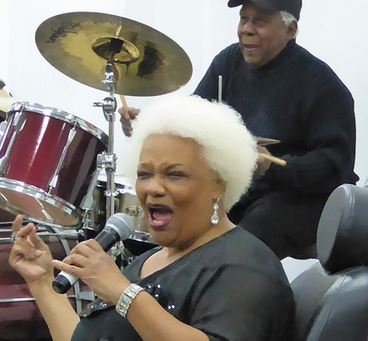 A full house gathered for a fundraiser to support black employment and celebrate the evolution of musicians' unions -- you know, back in the days when musicians got paid (a little). Folding chairs, a jazz combo, white walls and white partitions with black cloths covering . . . something. Author Steven Isoardi, who's written extensively about jazz in Los Angeles, had procured a ticket for early entry so he could get a leisurely squint at the exhibit, but the black cloths didn't come off until the end. He minded not much.
My friends and I sneaked inside in time for acknowledgments of supporters such as the Service Employees Union local and the L.A. Black Worker Center. Organizers led chants along the lines of "When we fight, we win!" (Someone whispered, "We do?") The experienced Ron Parker & Fumi Bankole demonstrated genteel club dancing from the period prior to 1953, when the black Musicians Union Local 767 amalgamated with the previously all-white 47. Legendary saxophone bopper/honker Big Jay McNeely remembered The Day.
Bassist Nedra Wheeler, always where the action is, swayed into the Horace Tapscott waltz "As a Child," scatted like a champ, and led the combo, which included redoubtable drummer Donald Dean (Les McCann) and deft pianist Nick Smith (Stanley Clarke). Then jazz & blues star Barbara Morrison rolled out and heated things up with a jumpin' testimony on Duke & Mercer Ellington's "Things Ain't What They Used To Be," whose lyric ("There's a happy day yet to come") fit the occasion -- damn, that woman projects more energy from a wheelchair than a marching band on the hoof. Now everyone was up and dancing.
"I used to think you liked me until you put me after her," said Robin Kelley, UCLA prof and author of the definitive Thelonious Monk biography (Monk wrote a song called "Work," by the way), before offering insightful remarks on community, the real definition of wealth, and the legacies of local pillar Tapscott, bass giant Charles Mingus and activist poet Kamau Da'aood.
The trio tranced into John Coltrane's "A Love Supreme," and the cloths came off the walls to reveal, along with several striking pieces of music-themed art, a series of signposts in the development of the black Musicians Union. There was a musical score by Marl Young, a leader of the amalgamation campaign. There was a picture of windman/instigator Buddy Collette with Groucho Marx, whose TV show helped break the color barrier. There was a picture of bandleader Gerald Wilson, a key L.A. figure since the 1930s who passed a few years ago. There was a snap of Tapscott's sprawling Arkestra. Side by side were a faded original handwritten union roster and a ballot from the historic amalgamation vote.
The evening featured numerous other speakers (Black Worker Center's Lola Smallwood Cuevas), honorees (Jim Morganfield, son of Muddy Waters) and musician attendees (singer Dwight Trible, who turns up everywhere), but you get the idea. The overall sense of purpose ran strong.
As bad as the climate might feel now, with racists in power and unionized black membership down, we had to recognize that things weren't quite what they used to be. Writer Erin Aubry Kaplan introduced me to her tall, distinguished dad, Larry Aubry, a trumpeter who joined Local 767 in 1949. "People used to hang tar babies in effigy," he recalled. "That was my L.A."


* * *


"BlackMusic BlackWork" remains at the California Jazz and Blues Museum, 4317 Degnan Blvd., Leimert Park 90008, through June 30.


Contribute to the cause here.


PHOTOS COURTESY OF MUSICIANS LOCAL 47.