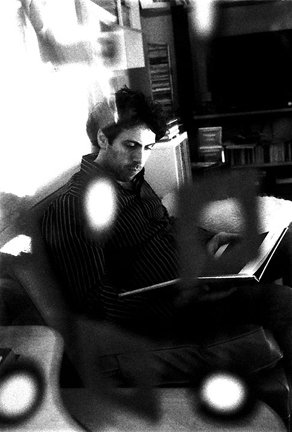 Beyond his emotional vibraphone skimming and colorful compositions, Nick Mancini always throws something different at you -- an organ trio, a duet with a pianist, some keenly rethought standards. You never know what's coming, and much of the excitement derives from the fact that he doesn't (entirely) either.
This time, Mancini took a chance with a seven-member group, five of whom (if you count vibes and piano) played percussive instruments. How would that work for this melody-minded musician?
Quite well. First, a solo Mancini relaxed us with irrefutable beauty -- an echoing, overlapping medley of two classics -- while waking us up with the challenge of identifying the songs. I guessed "My One and Only Love" and "Getting Sentimental Over You." It turned out to be the Gershwin-Bernstein sequence of "I Loves You Porgy" and "Some Other Time," but each listener had a different conjecture to impose on this lovely abstraction. Fun.
The percussive surprises started with Mancini's lilting "The Mind Matrix," highlighted by his surging/receding solo. The bongos and assorted percussion of Scott Breadman and Pete Korpela vied for the foreground, while pianist Brandon Coleman and drummer Christian Euman reversed the usual roles, Coleman flowing supportively while Euman kicked against the grain. Travis Flournoy's visual projections, which added a welcome dimension throughout the evening, illustrated our nation's current mind matrix with a distorted flag image.
Mancini must have been glad he enlisted veteran guitarist Larry Koonse, who on "Matrix" and the leader's brand-new bopper "Braithwaite" clipped along with single-string spiels that held the band's center while introducing just a sprinkle of extrascalar pepper.
Singers Afton Hefley and Stephanie Yavelow (one blonde and tall, one dark and petite) stepped up for tight harmonies on Icelandic songwriter Emiliana Torrinii's "When We Dance." It's an unusual tune, pretty but individualistic, adding hints of blues and even Japanese music to its European balladry, but the whole group pulled the disparate elements into tight focus. A good change of pace, with Koonse smoothing the transitions.
The gently sexy rhythms of the Lionel Hampton/Sonny Burke standard "Midnight Sun" made for an uncontroversial but satisfying follow-up; everything was jelling now. But Mancini's ensuing jam with his percussionists really highlighted the possibilities of this band: The competition and volume levels diminished, and they accomplished the difficult feat of swinging intensely but quietly.
Mancini's "El Chavo," from the Diz school of Cubano bebop, closed the first set with a flourish. Always wryly understated and casually rumpled, Mancini bowed off.
A substantial line waited outside for the second set, the first having experienced minor dramas due to a customer knocking down a microphone, a busy bartender smashing a glass during a still passage, and Mancini having to restart two imperfect introductions. Just like a real, crowded, urban jazz club, in other words. These are the small prices of spontaneity -- and success.


PHOTO BY JAY MATSUEDA.