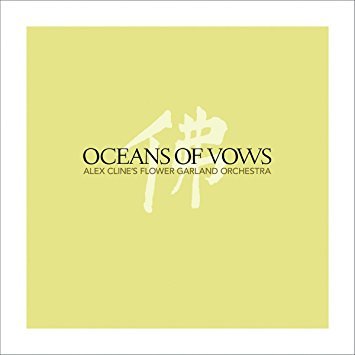 Folks sometimes err in thinking that the spirit must exclude human meat. For refutation, one need only crank up the introductory minutes of "Oceans of Vows," drummer-composer Alex Cline's two-hour tribute to Zen master Thich Nhat Hanh.
Gongs vibrate every cell of your body. Swelling strings and electronics support your mass like deep saltwater. The pure voice of Areni Agbabian focuses your mind at an elevated point where the conflictedness of beauty may force tears from your eyes. The thud of a giant bass drum shocks the evil from your entrails.
Despite such frequent impacts, the overall mood is a revolving calm, and Cline's 13-member ensemble, each long acquainted with the Alexian aesthetic, knows just how to express it. Within this semi-improvised work, the musicians' first priority is group listening, so that strings, synths and bells flow into and out of one another like breaths, often indistinguishable within the common organism. From Asian processionals to Floydlike space excursions, we experience a philosophy sensitively reflected in both the music and the words, which are taken from the Zen master's poetry and the Sutras ("The sun has entered me"; "This is because that is").
Not that the listener feels taught; he can even get rocked, as in the collection's exciting 6-minute hit single, "The Incalculable," a throbbing, Can-influenced number driven by Cline's drums and brother Nels Cline's hypnotic single-string guitar riff. It's a brother/brother example of Alex's numerous sympathetic pairings, which also include Nels with synthesist wife Yuka Honda, and violinist Jeff Gauthier with cellist spouse Maggie Parkins. The personal is musical.
Although the 10 individual parts travel at an unhurried pace, they don't seem as long as they are, first because the borders between them blur, second because their slow changes fascinate, and third because of their time-suspending qualities. "Vows" echoes meditation that way: The contemplator emerges from inner space to find that the sun has gone down.
This whole experience is a concert, designed to engage and embrace. You will feel it in your bones, and in places you didn't know could be part of you. Play it loud.


* * *

The "Oceans of Vows" double CD is a studio recording. Read my review of Alex Cline's live performance of the same music from a year and a half ago here.