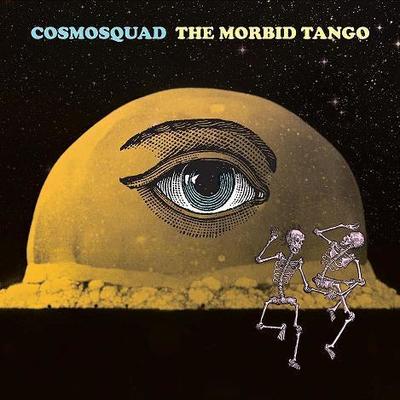 The planets must have aligned mightily to expel this molten spurt into the unsuspecting valley of complacent fakery. Twenty years after their debut recording, L.A. fusioneers Cosmosquad have again surmounted an essential challenge: It's easy to be crazy, but the true achievement is channeling your craziness into vital, coherent, exciting art.
The sources tapped by core members Jeff Kollman (guitar) and Shane Gaalaas (drums) are often discernible -- Jimi Hendrix, Jeff Beck, Led Zeppelin, Mahavishnu. The ways they interveave, though, can seem miraculous. An acoustic flamenco intro on the title track becomes a distorted bolero, a seaside siesta and a math-metal machine. On "The Crosses," surf music goes to Kashmir. After "Sangfroid" makes you think it's some kind of reggaefied makeout music, it drinks five cups of coffee and ends up giving John McLaughlin nightmares. The funky slapdown of "The Ballad of Rick James" is likely to have Kollman's former boss Glenn Hughes running to the phone. And the exquisitely crafted "Always Remember the Love" could be programmed right after Beck's "Since We've Ended As Lovers" with advantage to both.
Kollman has huge fun with the spontaneity that comes with mastery -- in the conglomerative songwriting, in the extreme variety of his tones, and especially in his solos, rife with improbable note choices and in-the-moment energy (a couple of tracks were even whole first takes). The mix makes sure we feel the full power of Gaalaas, whose inventive counteraccents and ruthless heaviness kick unholy ass (it ain't for nothing that he's played with Yngwie and Uli). Bombastic Meatbats bassist Kevin Chown, organically settled into his bedrock role, was an obvious perfect choice for bass, and auxiliary keyboardist Jeff Babko adds just the right dose of ambiguous atmosphere.
What Cosmosquad presents here is magic -- rabbits from hats, ladies sawed in half, impossible transportations. Only it isn't done with mirrors. One of the best fusion albums ever.


Cosmosquad plays the Baked Potato on Saturday, March 4.