Fri. April 14 – I was playing Charles Lloyd and the Marvels' beautifully sad improvisation on Bob Dylan's "Masters of War," and 16-year-old Diana came in just to say she liked it, which happens rarely. Americana means something special when it's delivered by cloud-dancing saxophone avatar Lloyd (whom I never miss), open-plains guitarist Bill Frisell, pedal-steel stroker Greg Leisz, and the brilliant longstanding rhythm team of drummer Eric Harland and bassist Reuben Rogers. Many think it a bit odd that sandy-voiced country-rock singer Lucinda Williams is involved, but I'm beginning to hear it in my head, and she sounds great there. Read my Bowie/Lloyd meditation here. Photo by Dorothy Darr. A CAP presentation at UCLA's Royce Hall; 8pm; $29-$59; www.cap.ucla.edu.
Fri. April 14 – The global music & arts MARS Fest kicks off with the 45-piece Kaleidoscope Chamber Orchestra. At the Angel City Brewery and Artshare downtown thru April 23; check out the full lineup here.
Sat. April 15 – Rising young drummer Jonathan Pinson (Wayne, Herbie, Ambrose) leads Boom Clap; Katalyst opens. At the Blue Whale on the third level of Weller Court Plaza, south of East First Street between South Los Angeles Street and South San Pedro Street, Little Tokyo 90012; 9pm-midnight; $15; 21+; parking $9 underneath off Second Street at the sign of the P in a circle; (213) 620-0908; www.bluewhalemusic.com.
Sat. April 15 – Well-traveled melodic guitarist Russell Malone leads a quartet with pianist Rick Germanson, bassist Luke Sellick and drummer Willie Jones III. At Moss Theater in the Herb Alpert Educational Village of New Roads School, 3131 Olympic Blvd., Santa Monica 90404; 8:30pm; $35 ($25 students); www.jazzbakery.org.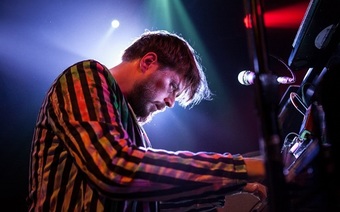 Sat. April 15 – Hep crossover pianist Marco Benevento makes instrumental music you can hum and stomp to. With Wyndham, Eagle Rock Gospel Singers. At Bootleg Theater, 2220 Beverly Blvd. near Alvarado, LA 90057; 8:30pm; $15-$20; www.bootlegtheater.org.
Sun. April 16 – Organized by Dwight Trible, it's a Tribute to Arthur Blythe! (See below.) Musicians are invited to jam one for the recently departed sax great. At the World Stage, 4321 Degnan Blvd., Leimert Park 90008; 4-8pm; no cover; www.theworldstage.org.
Sun. April 16 – Have a belt with traditionally oriented trumpeter Elliott Caine and his ensemble. At the York Bar and Restaurant, 5018 York Blvd., Highland Park 90042; 7:30-10pm; no cover; (323) 255-9675.
Wed. April 19 – Bonnie Barnett, aggressive stretcher beyond vocal conventions, brings a practiced group of free improvisers featuring trumpeter Dan Clucas, alto saxist Richard Wood, bassist Hal Onserud and drummer Garth Powell. At the Santa Monica Public Library, 601 Santa Monica Blvd., Santa Monica 90401; 7:30pm; free; smpl.org; (310) 458-8600.
Wed.-Sun. April 19-23 – Guitarist Juan De Marcos & the Afro Cuban All-Stars present the tamer side of Caribbean rhythm. At Catalina Bar & Grill, 6725 Sunset Blvd., Hollywood 90028; 8:30 & 10:30pm; $35-$45; (323) 466-2210; www.catalinajazzclub.com.
* * *
San Diego's Arthur Blythe had his own hard-edged yet bluesy alto-sax sound. His modern, rhythmically invigorating compositions didn't sound like anyone else's. And he could interpret Monk without sounding wimpy or wrong. That's three major signs of a true original, and only a handful of musicians can achieve even one. With Horace Tapscott, the World Saxophone Quartet and the Leaders, as well as on his own, Blythe stood at the forefront of jazz beginning in the '70s, but Illness kept him from the wider recognition he deserved. If you witnessed the tribute at Angel City Jazz Fest in 2014, though, you felt the real love he inspired in a core of musicians and fans. Rest in peace, Black Arthur.
* * *
Read Don Heckman's jazz picks here. Read John Payne's plutonic Bluefat.com here. Read Brick Wahl's noirish music commentaries here.