Fri. April 21 – Guitarist Jeff Kollman and Cosmosquad (with drummer Shane Gaalaas, bassist Kevin Chown and keyboardist Matt Rohde) dazzle your ears with fusional prestidigitations from their new "The Morbid Tango." Read my review here. At the Baked Potato, 3787 Cahuenga Blvd. West, Studio City 91604; 9:30 & 11:30pm; $25; (818) 980-1615; www.thebakedpotato.com.
Fri. April 21 – Microfest continues to honor microtonal pioneer Lou Harrison's 100th anniversary with a program of film and talk, plus music by guitar specialist John Schneider and percussionist TJ Troy. At UCLA's James Bridges Theater, 235 Charles E. Young Drive East, 1409 Melnitz Hall, L.A. 90095; 8pm; $15 tickets here or cash only at the door.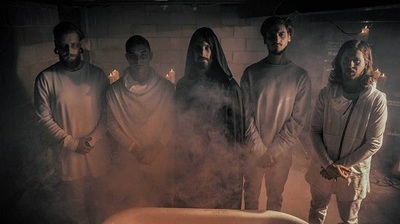 Fri. April 21 – Hey, voxman Dennis Mikula might as well be screaming in Chinese as North Dakota's Ghost Bath prop-wash their way through passionate black metal & sludge. With Astronoid, Imperialist, Zephyrplex. At Complex, 806 E. Colorado St., Glendale 91205; doors 7pm; $12; 21+; full bar; www.complexla.com; (323) 642-7519.
Fri.-Sun. April 19-23 – Guitarist Juan De Marcos & the Afro Cuban All-Stars present the tamer side of Caribbean rhythm. At Catalina Bar & Grill, 6725 Sunset Blvd., Hollywood 90028; 8:30 & 10:30pm; $35-$45; (323) 466-2210; www.catalinajazzclub.com.
Sat. April 22 – Original NYC thrashers Anthrax make a crossover alliance with metallic emotifiers Killswitch Engage, The Devil Wears Prada, Code Orange. At the Wiltern, 3790 Wilshire Blvd., LA 90010; 6pm; sold out but y'know; (213) 388-1400; www.livenation.com.
Sat. April 22 – Grab a piece of the postbop and Latin traditions from trumpeter Elliott Caine and friends. At Colombo's Restaurant, 1833 Colorado Blvd., Eagle Rock 90041; 9:30pm-midnight; no cover; (323) 254-9138.
Sun. April 23 – Microfest hits you with the gamelan works of Lou Harrison, dinging, bonging and Javanese as all get-out. At the Drinkward Recital Hall of Harvey Mudd College, 320 E. Foothill Blvd., Claremont 91711; 8pm; free; www.microfest.org.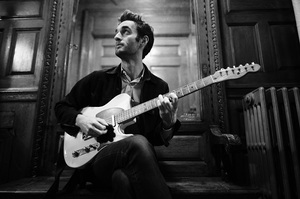 Wed. April 26 – Sensitivity, improvisation and intuitive structure meet in the extraordinary fingers and mind of guitarist Julian Lage, tonight collaborating with "progressive bluegrass" artist Chris Eldridge. Solo songwriter Aoife O'Donovan opens. At the Smothers Theater of Pepperdine's Lisa Smith Wengler Center for the Arts, 24255 Pacific Coast Highway, Malibu 90263; 8pm; $17-$35 here.
Wed. April 26 – Early Dutch death-metal forebears Asphyx excavate the noise. With Gravehill, Skeletal Remains, Ruin. At the Echo, 1822 Sunset Blvd., Echo Park 90023; doors 7pm; sold out but check in; (213) 413-8200; www.attheecho.com.
Thurs. April 27 – The Kandinsky Effect groove in a jazzy electronified intellectual European manner. At the Blue Whale on the third level of Weller Court Plaza, south of East First Street between South Los Angeles Street and South San Pedro Street, Little Tokyo 90012; 9pm-midnight; $15; 21+; parking $9 underneath off Second Street at the sign of the P in a circle; (213) 620-0908; www.bluewhalemusic.com.
Thurs. April 27 – Pantera's Philip Anselmo went for the maximum of screech & beller when he founded the blunted jaggedness of Superjoint. With Battlecross, Child Bite, Darksun, Killing Tyranny. At the Whisky, 8901 Sunset Blvd., West Hollywood 90069; doors 7pm; $30; (310) 652-4202; www.whiskyagogo.com.
Thurs.-Sun. April 27-30 – Ain't nobody got a vocal range and a way of shaping it like the very rad Rachelle Ferrell. At Catalina Bar & Grill, 6725 Sunset Blvd., Hollywood 90028; 8:30 & 10:30pm; $27-$40; (323) 466-2210; www.catalinajazzclub.com.
* * *
Guitar genius Allan Holdsworth died suddenly at age 70 in the immediate wake of releasing a comprehensive retrospective package. Very sad. It's like he knew.
* * *
Read Don Heckman's jazz picks here. Read John Payne's plutonic Bluefat.com here. Read Brick Wahl's noirish music commentaries here.