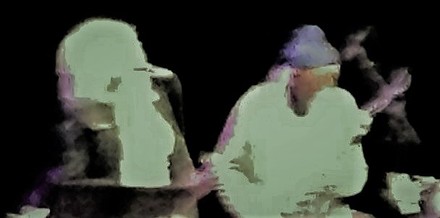 Recognizing at 79 that he's become a rare depository of American music, Charles Lloyd is taking a step down from his cloud to emphasize the soil we share. The woodwind high priest is back on an American label (Blue Note), he's formed an alliance with Americana guitarist Bill Frisell, and tonight he teamed with folk-rock warbler Lucinda Williams, who shares his Southern roots. Although the bold shift left some attendees sidetracked, Lloyd's broadened embrace offered warmth to those with open ears.
Lloyd's devotion to ethereal beauty (a cushiony "Monk's Mood," a deep-breathing take on the Beach Boys' "In My Room") was balanced by an extra infusion of barbecue smoke thanks to the pushy electric bass of Reuben Rogers and the mud-spattered drums of Eric Harland. Ornette Coleman's happy jump-blues "Ramblin'" swayed more gently under Lloyd's spell; Lloyd's new "Dismal Swamp" resonated as a funkier version of the Miles Davis waltz "All Blues." It was no accident that we kept hearing echoes of John Lee Hooker stomp, Bo Diddley thump or even Grateful Dead bounce – Lloyd wanted to touch maximum bases.
The finely brushed electric guitar of Frisell and the ghostly pedal steel of Greg Leisz intertwined with wonderful intuition throughout, adding immeasurable dimensions of trueblood folk & country to Lloyd's ancestral blues. On the ballads, Lloyd dedicated his tenor mostly to nuanced expressions of simple melodic lines and a few tripping connective runs, but he ventured to the brink of honking on the more rhythm-oriented numbers, messing subtly with the beat along with long-steeped mates Harland and Rogers.
For the last half hour, by way of calculated contrast, Lucinda Williams joined the band in full roadhouse-trash mode – boots, squeeze-on jeans, push-up cleavage and teased blond fluff. Belting strong and gritty on Blind Willie Johnson's "It's Nobody's Fault but Mine," she grew bleary on her own regretful ballads "A Place in My Heart" and "Ventura," and sleepy on Bob Dylan's "Masters of War" (a highlight of Lloyd's current "I Long To See You"). If Sam Cooke believed "A Change Is Gonna Come," Williams didn't seem too sure, and when she finished with "I Shall Be Released," she sounded grateful.
The Charles-and-Lucinda story was a work in progress. She said this band took her places she'd never been, and some of those places might not have felt like her personal armchair. Lloyd, after all, is a great singer in his own right, even if he sings through a reed.
* * *


PHOTO BY BOGGLE DOORZ.