Fri. May 19 – Reliable L.A. mainstream mainstay Benn Clatworthy blows the burnished sax. In Bar Fedora in vegan restaurant Au Lac, 710 W. First St., downtown 90012 (behind REDCAT); 7:30 & 9:30pm; $25-$30 (students $10) plus two-item minimum, reservations advisable at www.saturdaynightjazzdtla.com; $7 underground parking; www.saturdaynightjazzdtla.com.
Sat. May 20 – Foundational Carib pianist Chucho Valdes plows into it as only Cubans do; hang on. At Cal State L.A.'s Luckman Fine Arts Complex, 5151 State University Drive, L.A. 90032; 8pm; $30-$50 (students less); (323) 343-6600; www.luckmanarts.org.
Sat. May 20 – Microfest presents Arthur Omura on baroque harpsichord and organ, whipping out microtonal (etc.) music by Jehan Alain, Couperin, Marcel Dupré, Lou Harrison and Jehan Titelouze. At Boston Court, 70 N. Mentor Ave., Pasadena 91106; 8pm; $25; (626) 683-6883; www.microfest.org.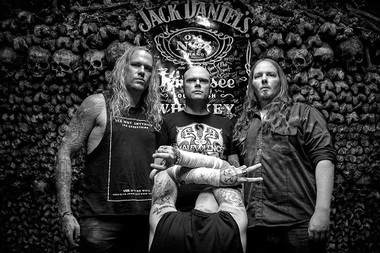 Sat. May 20 – Depressive Swedes Shining celebrate two decades of suicidal black metal in sunny Southern California; Revenge touts the joys of war from the safe battlements of placid Canada; discriminating connoisseurs of gloomy surge, stomp and scream applaud Wolvhammer. With Icon Of Phobos, Empyrean Throne. Moved from Glendale's recently shuttered Complex to the Regent Theater, 448 S. Main St., downtown 90013; 7pm; $15-$25; 18+; www.ticketfly.com.
Sat. May 20 – Local jazz royalty with the common melodic touch: drummer Dan Schnelle's quartet with organist Larry Goldings, guitarist Anthony Wilson and saxist Daniel Rotem (who's also gigging tomorrow). At the Blue Whale on the third level of Weller Court Plaza, south of East First Street between South Los Angeles Street and South San Pedro Street, Little Tokyo 90012; 9pm-midnight; $15; 21+; parking $9 underneath off Second Street at the sign of the P in a circle; (213) 620-0908; www.bluewhalemusic.com.
Sun. May 21 – Angel City Jazz presents saxist Daniel Rotem (Dave Liebman, Lewis Nash), international eclecticists Orkestar Mézé and Caleb Veazey's just as eclectic Stray Dog Song. At Bootleg Theater, 2220 Beverly Blvd. near Alvarado, LA 90057; 8pm; $10; www.bootlegtheater.org.
Sun. May 21 – Vibraphonists Anthony Smith, Nick Mancini and Lolly Allen take turns fronting drummer Paul Kreibich and bassist Anna Butterss in a metallophonic blowout honoring classic vibraphonist Charlie Shoemake and hyping the publication of Smith's book "Masters of the Vibes." At Alva's Show Room, 1417 W. Eighth St., San Pedro 90732; 4pm; $20; www.alvasshowroom.com; (800) 403-3447, reservations suggested.
Sun. May 21 – Robin Trower's new "Time and Emotion" sure sounds like 1974, with Trower whanging those atmospheric chords and singing with a distinctive soulfulness that makes one almost not miss James Dewar; drummer Chris Taggart kicks an exceptionally gutsy groove (hope he's onboard tonight). At the Wiltern, 3790 Wilshire Blvd., LA 90010; 7pm; $25-$115; (213) 388-1400; www.livenation.com.
Sun. May 21 – Living Colour trips its soulful heaviness with a vintage lineup: superguitarist Vernon Reid, singer Corey Glover, drummer Will Calhoun and bassist Doug Wimbush. Antehero and Victor Orlando & the Fun-Ja-La Allstars open. At the Rose, 245 E. Green St., Pasadena 91101; doors 6pm, reserved spots must be grabbed by 7pm, headliner 9pm; $24-$44; (888) 645-5006; www.roseconcerts.com.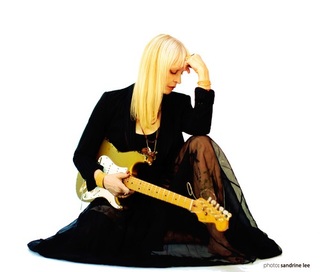 Thurs. May 25 – Leni Stern takes more chances than most any other guitar player – through worldwide stylistic variations, through proficiency on African instruments, through advanced harmonic theory, through the emotional spontaneity of her improvisations. And let's not omit the open vulnerability of her voice and the vivid colors of her songwriting. A package that doesn't fit in every listener's mailbox, she's nevertheless one worth receiving. Tonight Stern features her African trio with wild bassist Mamadou Ba and hand drummer Alioune Faye, and her special guest is admired guitarist Adam Levy; read my review of the pairing from last year here. Blue Guitar Club at Arroyo Seco Golf Course, 1055 Lohman Lane, South Pasadena 91030; 7:30pm (two sets); (323) 769-3500; $10-$15; www.blueguitar.club.
* * *
Read Don Heckman's jazz picks here. Read John Payne's plutonic Bluefat.com here. Read Brick Wahl's noirish music commentaries here.