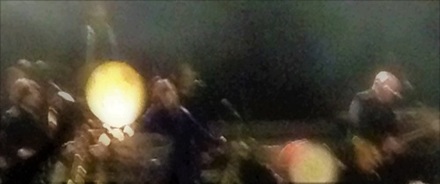 There were multiple oversize bass drums, so it musta been metal. There were three or four saxophones, so it musta been jazz. Or maybe the drums and the saxes (which Adolphe Sax designed for their martial loudness) were elements of art-rock songwriter PJ Harvey's marching band. But marching bands are for war, and she was using this one to promote peace and fairness. And when the saxes played unisons, they sounded like bagpipes, which belong in another kind of marching band. And bagpipes are from Scotland, so maybe it was all about golf. And on this very day, a big American golf tournament was in the process of being won by a kid from Korea, which is the source of a popular computer virus and also the region designated as the flashpoint for our impending nuclear war. And Harvey wore something on her head that looked like a tower of crow feathers, which are a Native American symbol of death to the enemy.
Kinda made us think. That hurt, but not enough to shut our ears. Harvey and her nine-piece band (which included everyband's genius sideman Alain Johannes but not regular collaborator John Parish) performed her entire current "The Hope Six Demolition Project." Despite the unfamiliar material, the dedicated audience locked in to the big, simple thump and the keening passion of Harvey's melodic singing. Even if we didn't register all the lyrics, we subconsciously resonated with subject matter inspired by government housing that evicts the folks it's supposed to help (a local example being Boyle Heights' Pueblo del Sol).
Of course, the event didn't fully erupt until Harvey dragged us back to her mid-1990s rude rock and stone-age blues -- "50 Ft Queenie," "Down by the Water," "To Bring You My Love" and the roarin' encore of Bob Dylan's "Highway 61." Once again she reset the older songs' context & textures, and once again she pulled it off, this time with a sound halfway between taiko and Gary Glitter. Using her sax mainly as a prop, looking like a mere jacaranda twig as the night fog descended on the stage, Harvey held the center of her expansive regiment with not much more than a flourish of her hand and the cutting power of her voice. Which is what keeps us coming back.


* * *


PHOTOS BY FUZZY BURNT.