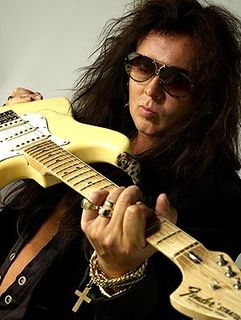 Fri. June 2 – Classical-metal innovator Yngwie Malmsteen would not tell you he's the world's fastest guitarist, because that would be immodest. With Gavlak. At the Saban Theater, 8440 Wilshire Blvd., Beverly Hills 90211; 7pm; $28-$58; www.ticketmaster.com.
Fri. June 2 – Long-running New Orleans-based sludge mechanics Eyehategod head a smokefest with Scapegoat, Wormrot, Backslider, Sick/Tired, Mellow Harsher, Escuela, Calafia Puta and, what, MORE? At Club Los Globos, 3040 Sunset Blvd., Echo Park 90026; 4pm; $35; www.clublosglobos.com; (323) 207-6686.
Fri. June 2 – Slide-guitar expander Scot Ray gets wild with bassist Tony Green and drummer Breeze Smith in a trio called Interlocutions. At The Battery Books & Music, 26 S. Los Robles Ave., Pasadena 91101; 8pm; $5 suggested donation; (626) 376-9913.
Fri.-Sun. June 2-4 – Seasoned trumpeter Roy Hargrove taps the tradition whilst appending some modernistic twists. At Catalina Bar & Grill, 6725 Sunset Blvd., Hollywood 90028; 8:30pm (second set Sat. 10:30), Sun. 7:30pm; $30-$35; (323) 466-2210; www.catalinajazzclub.com.
Sun. June 4 – Few musical collaborations can claim as much experience and telepathy as the electronified guitar & drums duo of G.E. Stinson & Alex Cline, guaranteed to fill up every cubic centimeter of this classic railroad station. Opening is free guitarist Scott Heustis' trio with vibraphonist Slam, plus the rhythm section of bassist Tony Green and drummer Breeze Smith, whom you might have seen on Friday at Battery. At Center for the Arts, 2225 Colorado Blvd., Eagle Rock 90041; 7pm; $10; (626) 795-4989.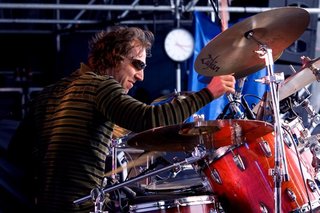 Tues. June 6 – When Ginger Baker's drummin' son Kofi Baker calls it Extreme Cream, you better believe it, since the sunshine-loving guitarist and bassist are fusion extrapolators Mike Keneally and Rob Pagliari. At the Baked Potato, 3787 Cahuenga Blvd. West, Studio City 91604; 9:30 & 11:30pm; $20; (818) 980-1615; www.thebakedpotato.com.
Tues. June 6 – You'll hardly find a saxist as strong from every angle as ECM artist Chris Potter, and Dave Holland, Dave Douglas and Paul Motian will tell you the same. Potter's quartet includes pianist David Virelles, bassist Ben Street and drummer Dan Weiss At the Blue Whale on the third level of Weller Court Plaza, south of East First Street between South Los Angeles Street and South San Pedro Street, Little Tokyo 90012; 9pm-midnight; $30; 21+; parking $9 underneath off Second Street at the sign of the P in a circle; (213) 620-0908; www.bluewhalemusic.com.
Wed. June 7 – "Gargantuan misery" is not an insult when self-applied to epic West Coast doomsters Graves at Sea. With Graf Orlock, Wovoka, Hessian Wolf Children. At Five Star Bar, 267 S. Main St., downtown 90012; 8pm; $12; 21+; fivestarbardtla.com; (323) 428-4492.
Thurs. June 8 – The atmosphere of arpeggiated gloom expands with Samothrace, plus He Whose Ox Is Gored, Void Omnia, Ancient Altar. At the Viper Room, 8852 Sunset Blvd., West Hollywood 90069; 8pm; $12; (310) 652-7869; www.viperroom.com.
Thurs.-Sun. June 8-11 – Vijay Iyer curated this year's Ojai Music Fest with fascinating results: plenty of astringent classical music and avant jazz, with musicians including Iyer, Wadada Leo Smith, George Lewis, Muhal Richard Abrams, Roscoe Mitchell, Nicole Mitchell, Zakir Hussein, Graham Haynes and many others. Check out the lineup here.
* * *
Read Don Heckman's jazz picks here. Read John Payne's plutonic Bluefat.com here. Read Brick Wahl's noirish music commentaries here.