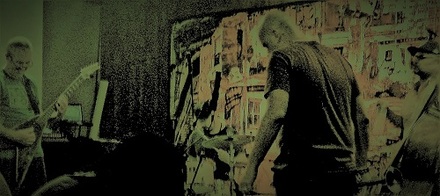 A night of hard-driving abstraction for discerning modern fusionistos.
Atomic Ape opened with an eruption of Balkanic energy. Defiantly avoiding 4/4 and nailing many an intricate unison, Jason Schimmel (Telecaster, bouzouki, Rhodes), Ryan Parrish (tenor) and friends lavished a bazaarful o' chops whilst clearing the way for their inner metal belly dancer. These whiskered supernerds engendered a mood often triumphant, sometimes sensitive, and bassist Max Whipple and drummer Mike Lockwood stop-started the tough rhythmic breakdowns on a dinar. Great palate cleanser.
Considering the wrathful atmosphere of Burning Ghosts' records, it was a revelation to see flamethrower guitarist Jake Vossler beaming a rapturous smile throughout the metaljazz quartet's assault. The cheer didn't undercut the ferocity of his playing, as he launched his entire arsenal of chordal augmentations, up-the-neck zoom slides, crazed single-string runs and buzzpicked black-metal sustains, making the pixellated colors dance in our heads. Daniel Rosenboom hulked opposite, dangling his trumpet like a headsman's ax before raising it to blow mournful, menacing lines of considered beauty. Drummer Aaron McLendon and bassist Richard Giddens maintained the stormy avant legacy of Sunny Murray and Henry Grimes, and, in the midst of polyrhythmic crescendos, kept the dedicated crowd undecided whether to bang heads, funktwitch or skank (but the headbang won). It was big, it was badass, it was an impressive collection of identifiable SONGS, and it ended with a tide of heavy feedback and applause, the way it sure oughta.


* * *


Read my review of Burning Ghosts' "Reclamation" here.


PHOTOS BY FUZZY BURNS.