Fri. Aug. 18 – Hardly anybody's got more fusional talent and disregard for convention than guitarist-keyboardist-singer Mike Keneally, whose Beer for Dolphins unit encompasses guitarist Rick Musallam, bassist Bryan Beller and drummer Joe Travers. At the Baked Potato, 3787 Cahuenga Blvd. West, Studio City 91604; 9:30 & 11:30pm; $25; (818) 980-1615; www.thebakedpotato.com.
Sat. Aug. 19 – At this moment in this blue city in this blue state, veteran German deathsters Marduk would be well advised to play down their Nazi fascination and just stick with the Christian-hating angle. With fellow savior despisers Incantation (N.Y./PA) and rot enthusiasts Abysmal Dawn (L.A.), plus Ritual, Sicarius. At Union, 4067 W. Pico Blvd., L.A. 90019; 7pm; $17; all ages; www.unionclubla.com.
Sun. Aug. 20 – I dare you to complain about the tone, the focus, the daring or the intelligence of saxist David Binney, tonight leading a Group. With Chord Four, IT LO. At Bootleg Theater, 2220 Beverly Blvd. near Alvarado, LA 90057; 8pm; $10; www.bootlegtheater.org.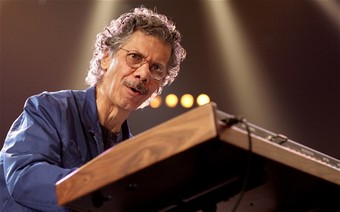 Sun. Aug. 20 – The circa-1970 Miles keyboardist and eternal fusion superstar: It's Chick Corea Elektrik Band, with inventive eclecticists Bela Fleck & the Flecktones. At the Wiltern, 3790 Wilshire Blvd., LA 90010; 7pm; $50-$70; (213) 388-1400; www.livenation.com.
Sun. Aug. 20 – Elliott Caine and his band are your reliable local source for jazz trumpet tradition. And sax and piano and drums and bass, and maybe a guest artist. At the York Bar and Restaurant, 5018 York Blvd., Highland Park 90042; 7:30-10pm; no cover; (323) 255-9675.
Thurs. Aug. 24 – David Binney is busy this week. At the Blue Whale on the third level of Weller Court Plaza, south of East First Street between South Los Angeles Street and South San Pedro Street, Little Tokyo 90012; 9pm-midnight; $15; 21+; parking $9 underneath off Second Street at the sign of the P in a circle; (213) 620-0908; www.bluewhalemusic.com.
* * *
Read Don Heckman's jazz picks here. Read John Payne's plutonic Bluefat.com here. Read Brick Wahl's noirish music commentaries here.