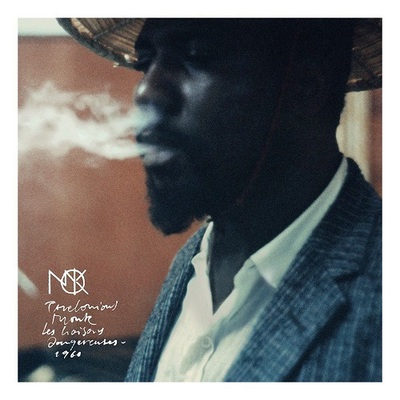 These 1959 Monk recordings for an obscure Roger Vadim film were a mandatory purchase, as any newly unearthed Monk must be. Although no fresh songs appear, Monk's piano solos in "Crepuscule With Nellie" and "Pannonica" melt with breathless sensitivity, and the experienced band – Charlie Rouse and Barney Wilen on saxes, Sam Jones on bass, Art Taylor on drums – rolls like a river. The digitalized sound rings with rich clarity, probably because the source reels have not endured dozens of spins to run off reissues. Still, Monk has got some recent fame on him after over a decade of obscure struggle, and the celebrity sheen, combined with a change in medications, has pushed him away from the avant-garde he used to command and into a more mainstream mode.
It got me thinking about 1959's pivotal importance. Last month I also happened to be reading "Interzone," a collection of William S. Burroughs' unpublished indulgences written prior to the 1959 breakthrough of his most famous and extreme book, "Naked Lunch." Beneath America's late-'50s Eisenhower conservatism lurked the shadow of change. Monk led his people to the promised land and stood like a gatekeeper at the border.
Some other 1959 events:
Ornette Coleman's "Change of the Century" contains "Ramblin'" and "Free," the song after which a music movement will be named.
John Coltrane's "Giant Steps" is his first full album of original compositions. The following year, he will record "The Avant-Garde" with Ornette Coleman's sidemen.
Cecil Taylor records "Love for Sale." Heavily influenced by Monk, the future ur-extremist breaks down three Cole Porter tunes into tiny shards and reassembles them with a modern meaning. The previous year, he has recorded "Stereo Drive" with admirer Coltrane.
With Coltrane, Miles Davis waxes "Kind of Blue," a modal nod to simplicity, almost a retrogression, influenced by Gil Evans.
Gil Evans records another cool semi-retrogression, "Great Jazz Standards," featuring Monk's "Straight, No Chaser."
On what will be released much later as Sun Ra's "Sound Sun Pleasure" album, a sedate vocal cover of Monk's "'Round Midnight" revs into a tumultuous avant jam.
Sonny Rollins (who played with Monk and admires Coltrane) begins a two-year sabbatical during which he learns to incorporate avant sounds into his already very advanced saxophonics. The change will be temporary.
Dixieland soprano saxist Sidney Bechet, inspirer of John Coltrane, dies in May at 64. Swing sax great Lester Young dies in March at 44. Frequent Young collaborator Billie Holiday follows in July at the same age. Their time has passed.
Symbol of American innocence Buddy Holly dies in a plane crash.
Mark Rothko paints blood-red block abstractions for a New York Four Seasons restaurant with the intent to "ruin the appetite of every son-of-a-bitch who eats in that room."
The first American soldiers are killed in Vietnam.
Revolutionary leader Fidel Castro becomes prime minister of Cuba.
Alaska and Hawaii become states, bringing coolness, heat and extreme geographical distances into the Union.
Greg Burk, age 8, listens to Bobby Darin's "Mack the Knife," Ray Charles' "What'd I Say" and Frank Sinatra's "It's All Right With Me" on his parents' old walnut radio in Concord, California, and chases colorful dragonfies by a creek that no longer exists.