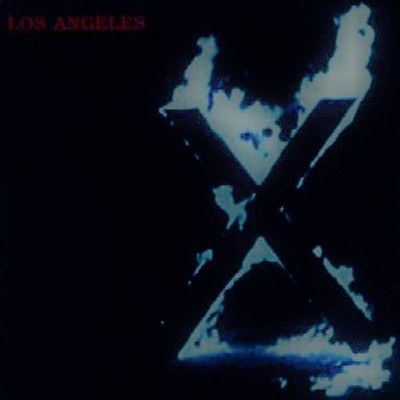 X has songs titled "Blue Spark," "Painting the Town Blue," "Big Blue House" and "Los Angeles," which qualify its members as Dodgers fans. Three of four Xers (John Doe, Exene Cervenka and Billy Zoom) were born in Illinois, which qualifies them as Chicago White Sox fans. So what could be more natural than the Dodgers paying tribute to X on Wednesday, August 16, when the Men in Blue play an interleague game with the White Sox? In addition, promotional socks will be given away at the game thanks to shoemaker New Balance, whose founder offers major support both to your sagging arches and to the current U.S. Prevaricator in Chief. The socks are Dodgers socks, but they are Sox. It's a big concept day.
Forty years ago, few would have anticipated such mass Xceptance of a new band that sang about being locked out of the public eye ("The Unheard Music"). But all four members will be interviewed pregame on the big DodgerVision screen and on the Dodgers' live streaming Facebook page. Bassist-singer John Doe will croon the national anthem without spitting. And vocalist-writer Exene Cervenka will throw the traditional First Pitch. No, I am not jesting. Hallucinating, maybe.
Like all '70s punks, X exemplified alienation. It worked for me at the time, but in the beginning I was alienated from the alienated. Sitting against the graffitied wall in the literally underground punk club the Masque in 1977, I was approached by a girl in an ironic polka-dot dress, who, observing my untorn shirt, spat, "You don't belong here" and rotated. The diss didn't stop me from frequenting the Masque, though, or stop my quartet from rocking with punk bands all over the state. I figured, whole togs or no, I could alienate with any mofo.
But alienation grows mold. After you get older and off drugs, you start to see more in common with the Boyle Heights families in the right-field bleachers than with the folks you used to nudge from the sundawning floor of the gawdamighty all-nite Zero. Sure, you still hate the establishment. Who doesn't? Still, you needn't disdain the establishment's table scraps; that's just suicide. Sometimes scraps are all you've got.
So good for X. Like few others, they can take a righteous stand for the bleacher-bound moms and dads who remember the group as a defiant symbol of their red-blooded youth. Or Blue-blooded. If only X could perform a whole set of color-coded songs, changing "Under the Big Black Sun," "I See Red" and "White Girl" to blue. Bloody blue eyes go to nausea, bloody blue eyes go to sleep.
Remember, alienated progressives: California is a Dodger Blue state.