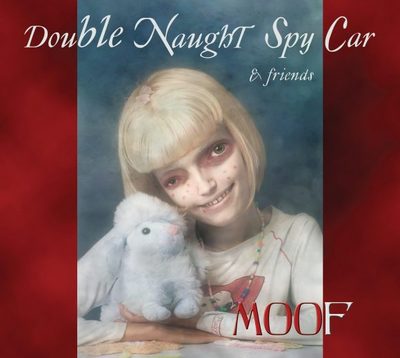 Arty party album of the year! The long-running Los Angeles instrumental combo Double Naught Spy Car cornered a lot of musician pals and forced each of them at beerpoint to collaborate on a song. The result sounds like . . . Spy Car!
Which means you hear the twang, zoom and echo of '60s surf. You hear delicate atmospherics, soundtracky melodrama, rocky rumble, dubby freakery. You hear melodies and developments. You hear sensitivity and skill. You hear studio mastery. You have fun.
You might say that guitarist Paul Lacques, bassist Marc Doten and drummer Joe Berardi selected players who'd fit naturally into their cosmos, but that universe is big enough to accommodate most any true axster. Glen Campbell? Ravi Shankar? Gil Evans? Raise 'em up and bring 'em on.
Examples such as "Marginalia" (Mike Watt & Joe Gore), "Jupiter Sunspot" (Sara Ardizzoni) and "The Hesher Variations" (Sylvia Juncosa) suggest that the musician Spy Car would most wish to enlist would be Jimi Hendrix, whose guitar trix and creative stereo applications serve as consistent beacons. When you bring outer-dwelling musicians such as Nels Cline (the surftastic "Tale of the Comet") and Joe Baiza (the horrorific "Hairsuit") into the picture, though, the borders dissolve, and what you mainly enjoy is just an aesthetic of generous yet edgy musicality. One tune that cries out for service in somebody's opening credits: "Peaches Sans Herbes," the summery, ecstatic collab with keyboardist Danny McGough (Social Distortion, Eleni Mandell, I See Hawks in L.A.).
If one could locate a downside to Double Naught Spy Car, it's that their high standards have led us to expect unremitting excellence. Well, they can live with that.


* * *


Double Naught Spy Car plays Taix., 1911 Sunset Blvd., Silver Lake 90026, on Saturday, September 2, at 9:10pm.