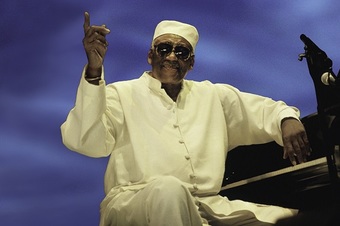 Fri. Oct. 20 – When Randy Weston spreads his wide wings across the piano, he takes you on a rhythmic and harmonic journey to Africa and the heart of human DNA. Closest thing to magic I've seen onstage, playing solo, which is no deficit. At Moss Theater in the Herb Alpert Educational Village of New Roads School, 3131 Olympic Blvd., Santa Monica 90404; 8pm; $35 ($25 students); www.jazzbakery.org.
Fri. Oct. 20 – Carlos Niño & Friends celebrate the release of their new world-trip-groove album, "Going Home," which features percussionist Niño plus the likes of SK Kakraba, Jamael Dean, Jamire Williams, Miguel Atwood-Ferguson, Dexter Story and more, some of whom are on hand in tonight's sextet, along with special guest percussionist Derf Reklaw. Fun show. At the World Stage, 4321 Degnan Blvd., Leimert Park 90008; 9pm; FREE; all ages; no booze; www.theworldstage.org.
Fri. Oct. 20 – Bassist John B. Williams, heard on 100 classic '60s jazz albums, pays tribute to one of his primary mentors, Horace Silver. Expect a topnotch band. At LACMA, 5905 Wilshire Blvd., LA 90036; 6-8pm; FREE; Friday summer jazz schedule here.
Fri.-Sat. Oct. 20-21 – Pianist Josh Nelson, a true hub of L.A. jazz, throws a two-day audiovisual/conceptual party for his latest Discovery Project album with a biggist band including guitarist Jeff Parker, clarinetist Brian Walsh, drummer Dan Schnelle, singer Kathleen Grace and more. At the Blue Whale on the third level of Weller Court Plaza, south of East First Street between South Los Angeles Street and South San Pedro Street, Little Tokyo 90012; 9pm-midnight; $25; 21+; parking $9 underneath off Second Street at the sign of the P in a circle; (213) 620-0908; www.bluewhalemusic.com.
Sat. Oct. 21 – Barflies and trueblood jazz heads kick back with trumpeter Elliott Caine's ensemble. At Colombo's Restaurant, 1833 Colorado Blvd., Eagle Rock 90041; 9:30pm-midnight; no cover; (323) 254-9138.
Mon. Oct. 23 – Swing & spark with Nick Mancini's Unit B, featuring the vibesman plus organist Jake Silverman and drummer Ian Hubbell. Bopper Kevin Kanner's group closes. At the Mint, 6010 Pico Blvd., LA 90035; 8pm; $5; (323) 954-9400; www.themintla.com.
Mon. Oct. 23 – I can think of few bassists as valuable as Steuart Liebig to spend time with if you want to improve your thickstring chops in a master class. At Los Angeles College of Music, 300 S. Fair Oaks Drive, Room 205, Pasadena 91105; 10:15-11:45am; free if you RSVP here.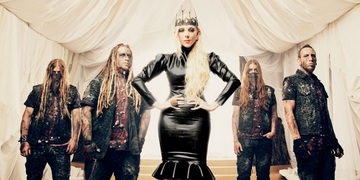 Tues. Oct. 24 – Metal's Loudwire Awards (broadcast live on AXS TV) feature music by Avenged Sevenfold, In This Moment (pictured), Anthrax, Halestorm, Ice-T's Bodycount, Dave Mustaine, Rob Halford, Lita Ford and more, with legends such as Tony Iommi, Sammy Hagar and Zakk Wylde hangin' around. At the Novo, 800 Olympic Blvd., downtown 90015; 7pm; $70-$80 tix here.
Wed. Oct. 25 – This edition of joybeat ensemble Carlos Niño & Friends features saxist Aaron Shaw, electroman Benjamin Tierney, hand drummer Dexter Story, singer Dwight Trible and drummer Jackson Frolick. At Low End Theory in Airliner, 2419 Broadway, downtown 90031; 9pm; cheap or free; 18+; www.lowendtheoryclub.com.
Thurs. Oct. 26 – Guitarist John Petrucci and Dream Theater put on a big, flashy prog-metal show to levitate all the heavy tech geeks. At the Wiltern, 3790 Wilshire Blvd., LA 90010; 8pm; $80-$223 (almost sold out); all ages; (213) 388-1400; www.livenation.com.
* * *
Read Don Heckman's jazz picks here. Read John Payne's plutonic Bluefat.com here. Read Brick Wahl's noirish music commentaries here.