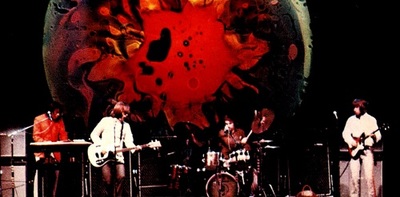 Congratulations to the mastermind who chose "In-A-Gadda-Da-Vida" to blast as the Los Angeles Dodgers ran onto their home field, launching Major League Baseball's 2017 World Series this Tuesday. The 1968 Iron Butterfly hit should become the Dodgers' theme song.
Dodger Stadium organist Dieter Ruehle has been messing around with "Gadda" as a cheer prod since he got the keyboard job a couple of seasons back. And for the Game 1 epiphany, according to a Dodgers publicist, he actually provided live accompaniment for a punched-up, bass-heavy recording of the original song. Damn, did it rock.
Cunningly adapted from Cream's "Sunshine of Your Love," which had smashed American airwaves a few months earlier, in late '67, the "Gadda" riff delivered a combination of aggression and determination appropriate to sports. Its minor-key menace extended a string of contemporary pop signifiers – Hendrix's downified "Manic Depression," the Stones' doomy "We Love You," the Beatles' freaked-out "Helter Skelter" – that pointed a withering finger toward the fragile blossom of flower power. Its title, intended as "In the Garden of Eden," was belied by the metallic heft of the music, making listeners flash on the transgression, exile and violence that ensued after Eve took Adam's hand and walked this land. Eden, like the World Championship, is a temporary possession.
Thanks to Butterfly songwriter Doug Ingle's soul-shouting basso, "Gadda" also appropriated a measure of baddnuss for the band and its equally pale listeners. That's just right for the Dodgers, who, although managed by the brilliant Dave Roberts, employ a minimum of African-rooted stars (firecracker outfielder Yasiel Puig and dominant relief closer Kenley Jansen). They can use some diluted street cred in a time when white is far from right.
To seal the deal, "In-A-Gadda-Da-Vida" owns a strong SoCal connection: Iron Butterfly formed in San Diego and got signed after relocating to Los Angeles, where they played clubs on Sunset Boulevard – a street whose eastern extremity can be reached by a hard foul ball off the bat of Cody Bellinger.
"Don't you know that I'll always be true?" howled Doug Ingle. True indeed. True blue.