Fri. Nov. 3 – Supertalented multi-instrumentalist and singer Maia owns that unmistakable connection to '60s Afro-jazz and brings a top band featuring windman Jesse Sharps, percussionist Derf Reklaw, bassist John B. Williams, drummer Mekela Session, and singers Renee Fisher Mims, Aankha Neal and Tamina Johnson. At the World Stage, 4321 Degnan Blvd., Leimert Park 90008; 9pm (two sets); $20; www.theworldstage.org.
Fri.-Sat. Nov. 3-4 – A lot of Latin jazzers can make you dance, but hand drummer Poncho Sanchez's hot band is one of the few that makes you feel relaxed at the same time. At Catalina Bar & Grill, 6725 Sunset Blvd., Hollywood 90028; 8:30 & 10:30pm (early show Sat. sold out); $30; (323) 466-2210; www.catalinajazzclub.com.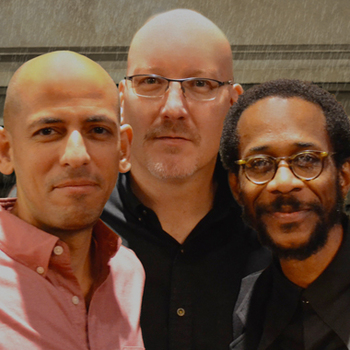 Sat. Nov. 4 – Bassist-composer Scott Colley leads a quietly intense modern jazz trio featuring drummer Brian Blade and pianist Edward Simon. A presentation of the Jazz Bakery's Movable Feasts at the Colburn School's Zipper Hall, 200 S. Grand Ave., downtown 90012; one show 8pm; $35 (add $25 for each student); www.jazzbakery.org.
Sat.-Sun. Nov. 4-5 – Mike Keneally & Beer for Dolphins present the ingenious guitarist-keyboardist-singer plus bassist Bryan Beller and drummer Joe Travers, inventing fusion-pop-epic stuff no one else can imagine. That's Saturday; on Sunday, Keneally plays guitar in the band of drummer Kris Myers, along with singer Ben Thomas, keyboardist Billy Steinway jand bassist Pete Griffin. At the Baked Potato, 3787 Cahuenga Blvd. West, Studio City 91604; 9:30 & 11:30pm; $25 Sat., $20 Sun.; (818) 980-1615; www.thebakedpotato.com.
Sat.-Sun. Nov. 4-5 – Another solid lineup for Ozzfest/Knotfest. Saturday's Ozzfest includes Ozzy Osbourne (back with Zakk) plus Children of Bodom, High on Fire, Suffocation, Possessed, Baroness and more. Sunday's Knotfest is just as heavy, with Rob Zombie, Marilyn Manson, Testament, The Black Dahlia Murder, Goatwhore and legions beyond. At Glen Helen Amphitheater, 2575 Glen Helen Parkway, San Bernardino 92407; 11am-11pm; $29 and up; (909) 880-6500; www.livenation.com.
Sun. Nov. 5 – Major bassist John Clayton (Clayton-Hamilton Orchestra) presents Baaad Bass Monsters, featuring bassists Edwin Livingston, Lyuman Medeiros, Gabe Noel, Jonathan Richards, Katie Thiroux and more. Jeffrey Winston interviews Clayton at 1pm, then comes the music. At the Mayme Clayton Museum, 4130 Overland Ave., Culver City 90230; music 2pm; $20 tickets here; limited seating; (310) 202-1647.
Sun. Nov. 5 – How did I not know that Vicki Ray & Scot Ray are siblings? Only natural that the brilliant modern pianist and the brilliant slide-guitar conceptualist would have a duo. Opening is Klang Association, comprising notable vocal extender Anna Homler plus electroman Jorge Martin, bassist Jeff Schwartz and abstract image projectifier Carole Kim. This Sunday Evening Concerts series, which happens but once a month, always has something remarkable on tap. At Center for the Arts, 2225 Colorado Blvd., Eagle Rock 90041; 7pm; $10; (626) 795-4989.
Tues. Nov. 7 – Groove Legacy is heavychops guitarist Michael Landau, trombonist Andrew Lippman, saxist Paulie Cerra, Rhodesman Billy Steinway, bassist Travis Carlton and drummer Donald Barrett. Sounds soulful. At the Baked Potato, 3787 Cahuenga Blvd. West, Studio City 91604; 9:30 & 11:30pm; $20; (818) 980-1615; www.thebakedpotato.com.
Thurs. Nov. 9 – Pianist Ethan Iverson, bassist Reid Anderson and drummer Dave King, a.k.a. The Bad Plus, continue in their role as musical subversives, hitting hard, playing pretty & strange, and showing a lot of doubters that jazz can be fun. Last chance to see the band with co-founder Iverson, who departs at the end of the year. At the EchoPlex, 1154 Glendale Blvd., Echo Park 90026; doors 8pm; $30; 18+; www.attheecho.com.

Thurs. Nov. 9 – Cinderella's Tom Keifer remains a blues-rock star as talented as anybody, but you don't gotta brave a stadium to see him. Evolution Eden and Stonebreed open. At the Rose, 245 E. Green St., Pasadena 91101; doors 6pm, reserved spots must be grabbed by 7pm, headliner 9pm; $28-$48; (888) 645-5006; www.roseconcerts.com.
Thurs. Nov. 9 -- LATE ADD: Launching a new concert series, Brad Dutz's 4tet showcases the percussionist's subtle anti-swing rhythms and harmonic earscrubs via Brian Walsh (bass clarinet), Paul Sherman (oboe & English horn) and Chris Votek (cello). At Sunspace, 9683 Sunland Blvd., Shadow Hills 91040; 8-10pm; $10.
* * *
Read Don Heckman's jazz picks here. Read John Payne's plutonic Bluefat.com here. Read Brick Wahl's noirish music commentaries here.