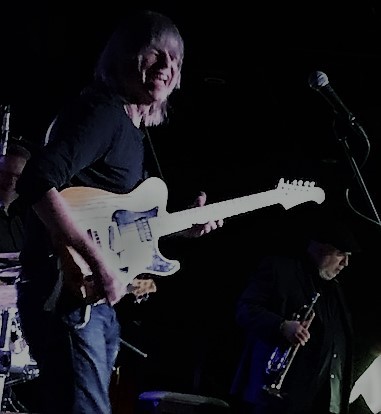 Mike Stern holds his guitar in that S-curve posture like a rocker, of course he does. He hails from that Jeff Beck zone of a rocker turned jazzbo, not the fusionistic opposite like, say, Larry Carlton. That's one reason Miles hired him back in 1981 – the edge.
Stern and his quartet of longtime associates (trumpeter Randy Brecker, drummer Dave Weckl, bassist Tom Kennedy) seem bent on fusing just about everything tonight. They mix a little Bach and Mongolian scales into "Avenue B," and some Afro-Caribbean riddim into another tune. The Hendrix blues "Red House" is a natural. Did we hear a taste of "Maria" from "West Side Story"? Mike's new "Trip" has a cool Brazilian feel, and he sings it with resigned sadness and humanity.
Mike is employing his transparent high tenor voice a lot, maybe wishing to complement his wife, Leni Stern, who opens each set with an African-derived original drawn from her work over the last 15 years, singing and plucking the small n'goni. Her romantic "Thief in the Night" dances with a quiet lilt, and a stalking, swaying ballad sets a dusky mood for the second set. The band slides into 'em nicely, with Brecker in particular complementing her intimate vocal melodies with emotionally attuned horn obbligatos.
Mike Stern often slipslides through quick sequences of barre chords (and bites off a taste of bottleneck) between his more aggressive fusion attacks, which he executes with lyrical taste and perfect rhythm, no matter how fast. Weckl and Kennedy, in addition to frequent furious solos, are right on top of it – Mike says those two have been playing together since they were 5. Weckl rips forward with minimal effort, his hands hovering an inch above the skins, while Kennedy articulates his 5-string bass more crisply than even the techiest guitarist. And big Brecker again shows his talents as both a soulful listener and an adventurer, not only dropping in many non-scalar notes but extending some until we're forced to acknowledge that they make sense.
All kinds of improv lovers are in attendance, and they dig both Sterns without reservation. Here's one place, anyway, where the world is united.


* * *


PHOTOS BY DEBI DOORZ.