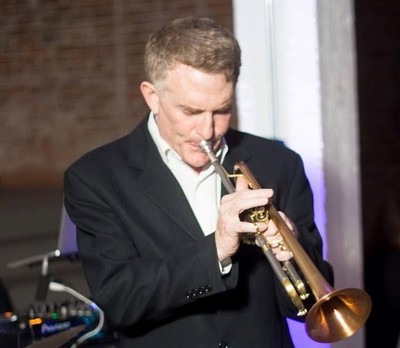 There's a difference between a throwback and a classic; it's the difference between nostalgia and discrimination. Elliott Caine's twice-a-month jazz cushioning at Colombo's steakhouse in Eagle Rock provides an opportunity to dig the distinction.
Trumpeter Caine is one of those increasingly rare jazz musicians who gigs all the time. Both a classicist and a curator, he makes no apologies for his love of the soul-inflected circa-1960 Blue Note sound, but even if you know you're probably gonna hear some Lee Morgan, it won't necessarily be "The Sidewinder" or "I Remember Clifford"; tonight it's the more obscure chromatic jumper "Calling Miss Khadija," from the Art Blakey book. Anticipating a ballad associated with Thelonious Monk? Not "'Round Midnight" this time; instead we luxuriate in Sammy Cahn's sensual lament "I Should Care."
Caine divides between covers and originals when he plays the neighboring York every other Sunday, but his lone composition in tonight's first set at Colombo's is the lazily Latinate "Bossa for Bert." Reason? He's learned that sticking to the relaxed side of vintage bop synchronizes with the local vibe. The weathered 70-year-old restaurant has actual booths and tables with cloths, where you can gnaw your porterhouse and gab, or tune in to the music; you don't have to choose. You don't have to choose at the bar, either: Walled away from the main room by a thin sheet of cloudy lucite, it lets you ogle the tacky '40s-style paintings of nekkid ladies while you soak up the music, or watch sports on a couple of TVs, whose low volume interferes little. Whatever, you can get a good dry martini with the shaker on the side to keep the remainder cold, the way God intended when He created that cocktail (gin not vodka) around the time Cole Porter wrote his first song.
Caine doesn't mind the ambient distractions. Thin and quiet, he embodies monklike concentration, closing his eyes and nodding his head as he blows with effortless swing and an airy tone. Gary Blumer's gentle touch reflects the easiest relationship to bebop piano you can imagine, while Bill Markus' defined presence on upright bass cuts through the patron babble. Kenny Elliott keeps the traps rhythms steady and meaty – his slappity work on the toms during "Bossa" could lead you to hallucinate congas. The quartet closes with the brisk bopper "Jeannine" by Duke Pearson, a pianist often preferred by trumpeters such as Donald Byrd, Johnny Coles and Thad Jones.
When you check out this scene, reserve early – on a Saturday night with no cover, a lot of Eagle Rockers know this is the kind of entertainment value most folks haven't seen since about . . . 1960.


* * *

Elliott Caine's Quintet with tenor saxist Scott Gilman, pianist Peter Smith, bassist Bill Markus and drummer Kenny Elliott plays the York, 5018 York Blvd., Highland Park, on Sunday, December 17, 7:30-10:30pm; no cover.