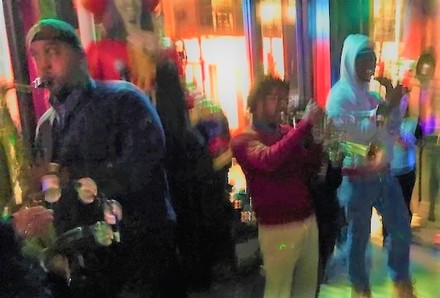 You can't tip every musician on Bourbon Street. You must discriminate, even during the lavish holidays. (This season ain't for Mardi Gras, Jazz Fest, French Quarter Fest, Voodoo Fest, Satchmo Fest, Preservation Fest, Blues Fest, Riverfest, Bayou Boogaloo or Ponderosa Stomp -- maybe they should inaugurate an Andrew Jackson Palooza in December to celebrate the 203rd anniversary of the Battle of New Orleans.) So: A buck goes to the lonely scruffster singing "Amarillo by Morning," while no gratuity rewards the equal talent of the derelict who somehow holds his cup aloft while passed out. Darwinism's a bitch.
And one hopes for survivors. Amid the live music pouring from every bar and streetcorner, Yer Tourist bestows his greatest largesse on the 7.1-member Tubad. Performing at the Bourbon Street Drinkery, one of several clubs where you can observe the drummer's butt crack through a sidewalk window, Tubad embody everything likable about jazz. Of couse, they can play: The short trumpeter, the tall trumpeter, the trombonist and the tenor saxist take turns on wild but friendly solos mixing a bit of second-line revelry with offhand bop expertise. During a half hour, they perform exactly one long song, a cover of a Rebirth Brass Band composition with flashes of Arthur Blythe, based on a three-note tuba riff. The tuba player, "Tubad" painted on his bell, strolls through the crowd, dances in front of the non-stage, makes a circuit out the door and back. Lucky he doesn't need to pee, or he would. Meanwhile, a burly auxiliary settles at the bar shaking a tambourine. When the spirit moves him, he passes the tambo to his girlfriend on the adjacent stool; she picks up the rhythm while he raps rhymes written on a dirty envelope in the general direction of a microphone and a beer spigot. Tubad behave as if they're lounging at home, and make the audience feel the same. Great.
Aside from a bit of "Little Liza Jane" antiquity, though, the Bourbon Street establishments aren't booking much of the roots tradition on which New Orleans built its bones. In the claustrophobic days leading up to the Sugar Bowl, zydeco is just the winning word in a post-midnight Scrabble game, nary a washboard or an accordion in sight.
Club owners' perception of visitors' musical desires focuses on . . . Top 40 covers! And that means, shall we say, midvintage rock Top 40, not today's Imagine Dragons. Let's take a walk.
Scene: A woman twerks enthusiastically on the ass of another much larger woman. Soundtrack: Guns N' Roses, U2, Journey.
Scene: Patient cops sit atop horses, old gray nag keeping young bay steady. Soundtrack: Pink Floyd, Violent Femmes, more Journey.
Scene: Old folks fixate on phones for directions to the Voodoo Museum; young folks fixate on phones for hookups. Soundtrack: Lynyrd Skynyrd, Kenny Loggins, still more Journey.
Scene: On a corner, pierced Goth hipsters pluck folky tunes on acoustic instruments, wearing black togs they've slept in for a month. Soundtrack: Their very own songs! (Maybe.)
Scene: In the auld Monteleone Hotel, Yer Tourist shares a down elevator with a drunk young woman. The woman says the lobby button, labeled *L, makes her think Star Level. YT says it's funny that the Star Level is on the bottom. The woman says, "You may get there." Soundtrack: Whoosssh.
New Orleans has produced superbad metal bands such as Down, Goatwhore and Crowbar. But that ain't holiday music. No modern metal in the French Quarter, no surprise.
A visit to the Ninth Ward Museum reveals that the neighborhood of small, paint-peeling houses, despite many teardowns and For Sale signs, stands in non-hopeless condition 12 years after Hurricane Katrina. The museum, though, remembers how the Ninth got shafted by G.W. Bush, who disengineered a predictable sequel to the cynical procedures employed during previous hurricanes, when the levee was blown up to flood the impoverished Ninth so the French Quarter could stay dry.
The evolved culinary creations in the restaurants of Emeril Lagasse and Paul Prudhomme taste good, but not as good as the fried-oyster po' boy at R&O's roadhouse in the white-flight suburb of Metairie. (Thanks for the reco, David N. Meyer.) Anything's delicious with Crystal Hot Sauce all over it, but still.
It's mostly cold, with a bone-snapping wind blowing off Lake Pontchartrain. Time for another fiery Cajun martini. Bons temps in the Western headquarters of 1800s forced servitude, where the aboveground cemeteries remain packed with antebellum slaver crypts, cracked but still standing.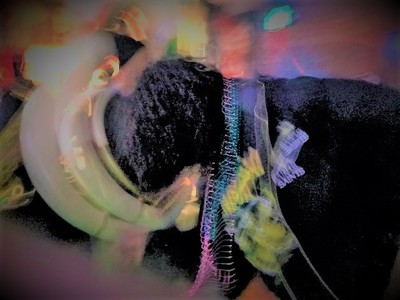 * * *


PHOTOS OF TUBAD (WITH JEAN LAFITTE LURKING BEHIND) BY GROG BOG.